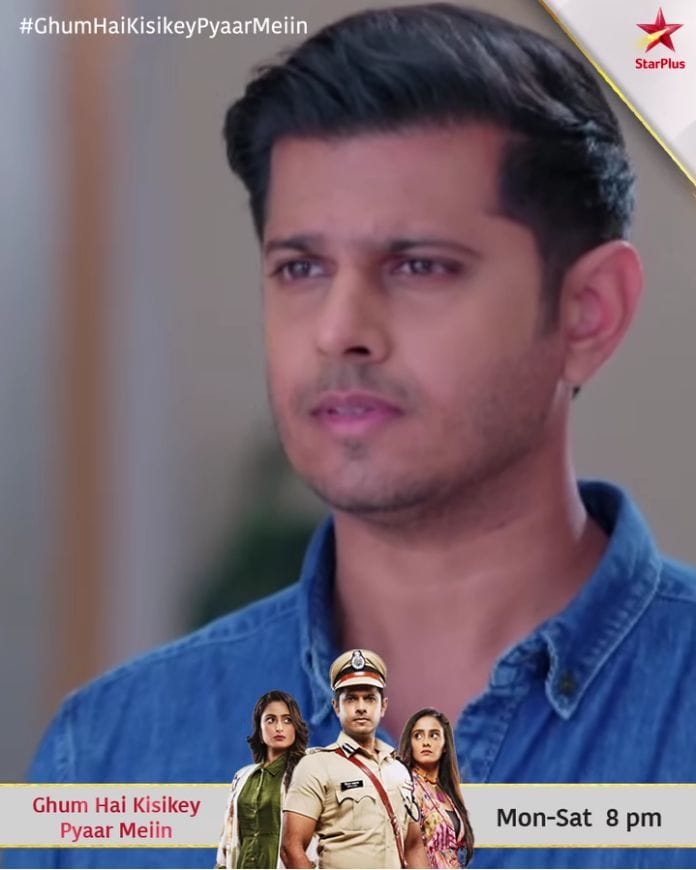 Ghum Hai Kisikey Pyaar Mein Upcoming Story, Spoilers, Latest Gossip, Future Story, Latest News and Upcoming Twist, on Justhowbiz.net
Update in progress

Episode starts with Bhavani along with Mansi and Sonali resting in her room. Bhavani gets elated thinking about their trip to the temple and says that everything went well. Mansi also shows her happiness and states that all their kids got the blessings of the God. Whereas, Karishma massages Bhavani's shoulders. At that time Pakhi comes there with glass of milk for everyone. She gives it to them showing her concern for their health, while Bhavani gets impressed and praises Pakhi for always caring about the family. She says that only Pakhi shows her concern for the family members more then anyone, while Sonali gets furious and leaves from there asking Karishma to bring her and Omkar's drink.
Here, Bhavani and Mansi gets shocked by Sonali's behaviour, while Karishma asks Permission before following Sonali. She also takes the drink from Pakhi and rushes out to Sonali's room. Whereas, Bhavani states that she is feeling relaxed after giving all the responsibilities to Sai. She shows her happiness behind Sai and Virat's decision.
Bhavani notices Pakhi being lost and confronts her. She ask if she is worried about the incident which happened in the temple? To which Pakhi denies stating that she doesn't care about it. She questions Bhavani about her changed behaviour towards Sai and ask why she have given all the responsibilities to her?
Elsewhere, Bhavani smirks and replies that she only followed Pakhi's advice. She reminds Pakhi that she have told her that Sai is doing everything only for attention and so she have fulfilled her wish by giving everything to her. She says that now Sai won't think about going back to her doctor professional.
Pakhi doesn't likes Bhavani's plan but stays silent in front of her. She tries to warn Bhavani against Sai and declares that she is not what she shows in front of them. She proclaims that soon her real face will get revealed. Whereas, Bhavani ask Pakhi to relax and concentrate on her life.
Ahead, Virat teases Sai mimicking her. She gets irked by him and ask when he will notify the truth to Bhavani? She shows her worry and says that if he can't tell then let her apprise Bhavani about his lie. Whereas, he stops her and makes her understand that they can't reveal the truth directly to Bhavani and have to reveal it in bits and pieces. He ask her to relax but she says that she can't take advantage of the situation.
Virat says that he was so happy to see Bhavani showering so much of love to Sai, while she ask what will happen when the truth will come out? Whereas, Virat gets close to Sai and gets romantic with her, while she pushes him away. He reminds her about getting their baby, while she says they will start new phase of their life only after revealing the truth to Bhavani.
Further, Bhavani organises a programme and notify everyone about it. Sonali questions that why suddenly she is planning that function, to which Bhavani replies that now they have Sai who can fulfill the rituals as she is married. Meanwhile, Sai worries about her final year result. At that time Pulkit and Virat comes there with balloons and cakes. They congratulates Sai for topping her exam, while the latter gets elated. Sonali mocks Bhavani stating that Sai won't leave her profession.
Precap:- Bhavani prohibits Sai from going to the hospital and ask her to live like a queen in their house. She says that Virat have the responsibility to earn. She then takes Sai's result and was about to tear it when Sai and Virat requests her not to do it. She smirks telling that she won't tear it and starts folding it, stating that she will give it in the trash. Whereas, Sai gets shocked and hurt.
Click to read
Ghum Hai Kisikey Pyaar Mein 13th May 2022 Written Update: Chavans visits the temple