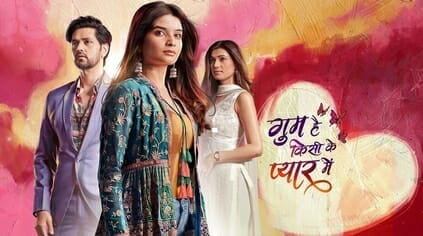 Ghum Hai Kisikey Pyaar Mein Upcoming Story, Spoilers, Latest Gossip, Future Story, Latest News and Upcoming Twist, on Justshowbiz.net
The episode starts with Ishaan apologising to Isha for humiliating her at the birthday party. Isha says no need. Ishaan says to Shantanu that he wants to apologise to him too. Shantanu says it's not needed. Ishaan says he needs his father who has been for him since childhood but he too left saying I don't need him anymore. Shantanu says I'm with you Ishaan and parents won't hurt kids. Isha sees him. Shantanu says he didn't mean that way. Ishaan thanks Shantanu for separating from him. He thanks Isha for separating his father from him. He congratulates her for becoming Isha Shantanu Bhosle. Isha and Shantanu get sad. Ishaan leaves.
Savi follows Ishaan and asks him to understand Isha and Shantanu's love for him. Ishaan warns Savi to not be involved in his personal life and leaves.
Surekha asks Yashwant if he thinks about what happens if Shantanu and Isha stay in one place, and how it will affect Ishaan. Yashwant tells her he is worried that their family will be broken if Shantanu asks for his share and gets separated from them.
Isha asks Shantanu to return to Ishaan. She says Ishaan needs him. Shantanu says you need me more at this time and I want to stay here to fulfill my responsibility as a husband. Isha asks him to not argue. She asks him to return to Ishaan. Shantanu refuses to leave her.
Ishaan does rigorous work out in anger. Surekha stops him and asks if he is fine. She asks why didn't he come to eat dinner and why he is not talking to anyone. Ishaan asks why one who he loves will go away from him. Surekha asks him to not blame himself. Surekha says it's all Isha's game. She asks Ishaan to see how Isha will light the fire in their family. She says I hope Isha won't separate you from me as I will be lifeless without you. Ishaan assures her that he will never go away from her. He hugs her.
Savi helps Harini by doing her makeup. Harini gives matching bangles to Savi. Kiran comes there and asks why they are getting ready. Harini tells him they are going to Pinky's sangeet. Kiran admires Savi's beauty and lustfully sees her. Isha on call asks the Inspector to end the formalities soon. Shantanu asks if she feels she is correct by taking back the case on Mandar and Vinayak. Isha says she doesn't want Savi to lose her near ones so I took this decision. She says she wants to meet Savi before leaving. Shantanu asks how can she leave in this state. He requests her to stay until she recovers. Isha says until now I didn't decide but when I decided you can't stop me and you know it.
Episode ends.
Precap – Savi shifts to a hostel room. Ishaan ousts Savi from the hostel accusing her character. Savi leaves challenging him that when he learns the truth, he will himself bring her back to the hostel. Later Shantanu scolds Ishaan for ousting Savi from the hostel in the nighttime. Someone kidnaps Savi. Ishaan on call hears Savi landed in trouble and gets worried.
Click to read
Ghum Hai Kisikey Pyaar Mein 18th September 2023 Written Update: Shantanu's decision stuns Bhosales