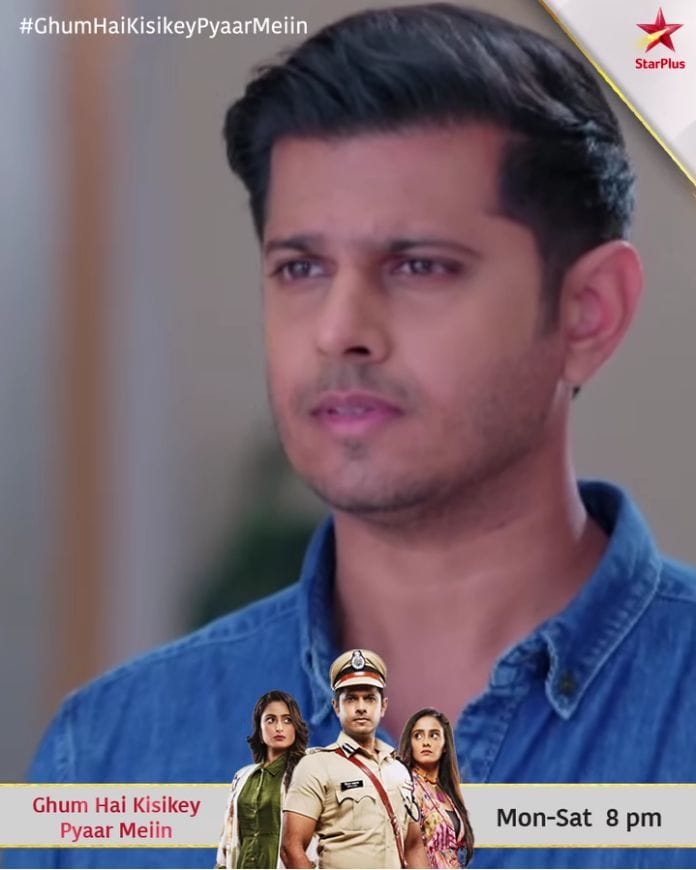 Ghum Hai Kisikey Pyaar Mein Upcoming Story, Spoilers, Latest Gossip, Future Story, Latest News and Upcoming Twist, on Justhowbiz.net
Episode starts with Virat getting ready by his own and Sai becomes elated seeing him all fine. She goes towards him and questions about his health. He ignores her completely, whereas she starts commenting upon him. She states that he is really handsome and praises his choices. He ask her to stop and says that he doesn't want to talk to her. She reminds him about them being married and declares that being his wife, she have all the rights to question him. He tells that they are not together and he won't ever accept her as his wife. She laughs and challenges him that they will be together. She starts teasing him and calls him with weird names. He couldn't able to control his laugh and turns away from her.
Here, Virat smiles wholeheartedly seeing Sai's antics, but then controls his emotions. He again faces her and ask her not to fly high. He says that he won't ever keep any relationship with her and then goes out of the room. Whereas, Sai gets delighted seeing her efforts working.
Sai becomes happy remembering his smile and determines to make everything normal in between them. She wishes that soon Virat can forgive her, so that she can even confess her love to him. She dreams about Virat, whereas Sunny comes there and greets her. She questions him about their departure to which he notify her that they are going to the hospital.
Elsewhere, Sunny tells Sai that Virat wants to get the medical report, so that he can show himself healthy and can join the work. He also tells that Virat is trying hard to get the transfer as soon as from there. Whereas, Sai ask him not to worry and states that she will find some or the other way to stop him.
Virat comes inside his room and warns Sai not to do anything foolish. He threatens that he won't spare her if she creates anymore hurdle in his life. He proclaims to get his transfer and get away from her and his family as soon as possible. Meanwhile, Krisha sahs that she won't let him go anywhere without her and Chavans.
Ahead, Sai follows Virat and sees him meeting the doctor. Virat tells about his personal reasons for the need of the report, whereas the doctor appreciates him for recovering fast. Virat declares that he wants to Join his job as early as he can and requests the doctor to give him the clean chit about his health. Whereas, Sai keeps listening to his conversation and makes some plans.
Sai goes to see Shivani and gives her favourite dessert. Shivani ask her to leave, while Sai tries her effort to cheer her. She reminds about their friendship and how they use to share things with eachother. Sai compares Rajiv with Amay while Shivani scolds her. Sai gets an idea and takes Shivani's phone bu lying to her and messages Rajiv to meet her from the phone.
Further, the nurse sees Sai peeking inside the doctor's cabin and sends her inside, when she learns that Sai is Virat's wife. Virat and Sai starts their funny banter, while doctor laughs and appreciate their sense of humour. Whereas, Sunny takes Sai side and get scolded by Virat. Meanwhile, Sonali instigates Bhavani against Sai and Karishma tells them about Sai meeting Shivani. Pakhi confronts Karishma about the matter, while Bhavani makes fun of Shivani and Sai. At that time Mohit comes there and shows support towards Sai. He also tells them about Sai being busy in her work, while Omkar scolds his son and ask him not to support Sai.
Precap:- Sai states that there is a way to learn English in 15 days. Whereas, there is also a book to teach how to operate kidneys, as well as how to eat chowmin in space. But, gets sad complaining that there isn't anyone to teach her how to pacify her husband. She gets unhappy while at that time she receives an unknown call. She becomes elated after talking to the unknown person.
Click to read
Ghum Hai Kisikey Pyaar Mein 7th March 2022 Written Update: