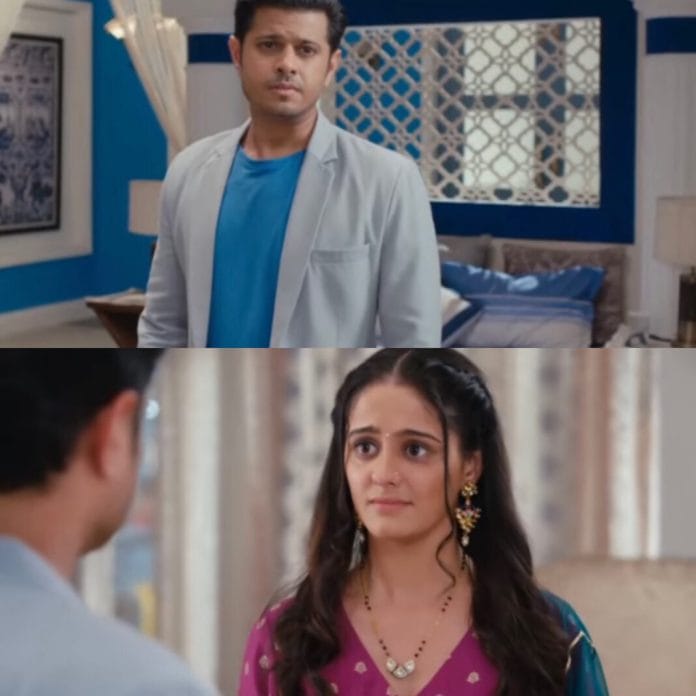 Ghum Hai Kisikey Pyaar Mein Upcoming Story, Spoilers, Latest Gossip, Future Story, Latest News and Upcoming Twist, on Justhowbiz.net

Episode starts with Sai making some excuse to get Shivani's cell phone. She immediately messages Rajiv and asks him to meet her afterwards. She also mentioned not to reply to the message and tells that she will apprise him everything after meeting him. He gets elated after reading the message and becomes excited to meet Shivani. He tells the lady next to her about Shivani and praises her. He gets lost in his thoughts to shower Shivani with all the love and care. Whereas, the lady blesses him with the happiness. He prepares to meet Shivani and proclaims to clear all their misunderstandings.
Here, Sai returns the phone to Shivani and determines to learns about the truth. Whereas, Karishma and Sonali keep discussing about the matter in between Sai and Shivani. Karishma ask Bhavani to be strict so that no one can break his records.
Bhavani laughs and says that both Sai and Shivani are bumb in matter of relationship and could not make any plan alone. She says that they needs people to help them and ask his family member not to think about Sai.
Elsewhere, Sai tries to cheer up Shivani while she appreciates her efforts but ask her to leave her alone. She states that she just needs her presence and notify Sai that she is planning to organise a tarot card session. Sai gets happy for Shivani and thinks that she will feel relaxed after the session and leaves from the room.
Pakhi asks Karishma about the conversation in between Sai and Shivani, to which katter replies that she couldn't able to hear it. She indirectly taunts Pakhi and compares herself with her. Pakhi says that they needs to find about the matter, to which Bhavani ignores it stating that they are just wasting their time.
Ahead, Devyani hears the conversation in between Bhavani and others. She feels bad for Shivani and after walking for sometime she goes inside Shivani's room and sees her looking at Tarot cards. She then confronts Shivani and her mood and health. She shows her care towards Shivani and says that soon everything will be fine.
Devyani shares her pain with Shivani and tells that the house treat them similarly. She reminds how Sai have crossed all the limit to make her get married to Pulkit. They laughs remembering Sai's doings and Bhavani assures Shivani that she will do something or the other to help Shivani.
Further, Shivani shows her gratitude towards Devyani for checking on her. Whereas, Virat returns back to his room and found the letter about Sai's final exams. He gets flashes of their marriage deal and keeps thinking about it. Sai comes there and confronts him for touching her things. She teases him while he replies that she also keeps questioning him about his whereabouts. He reminds her about their deal while she says that she is planning to fail in her exam, so that she will get extra time with Virat.
Precap:- Sai shows wedding dresses to Virat while he gets confused. She then shows jewelleries and asks about his opinion. He gets frustrated and ask if she is planning for their marriage? To which she teases him and replies that she needs his help to bring two lovers together. She ask if he will help her? To which he agrees and shakes hand with her.
Click to read
Ghum Hai Kisikey Pyaar Mein 8th April 2022 Written Update: Omkar scolds Mohit for supporting Sai