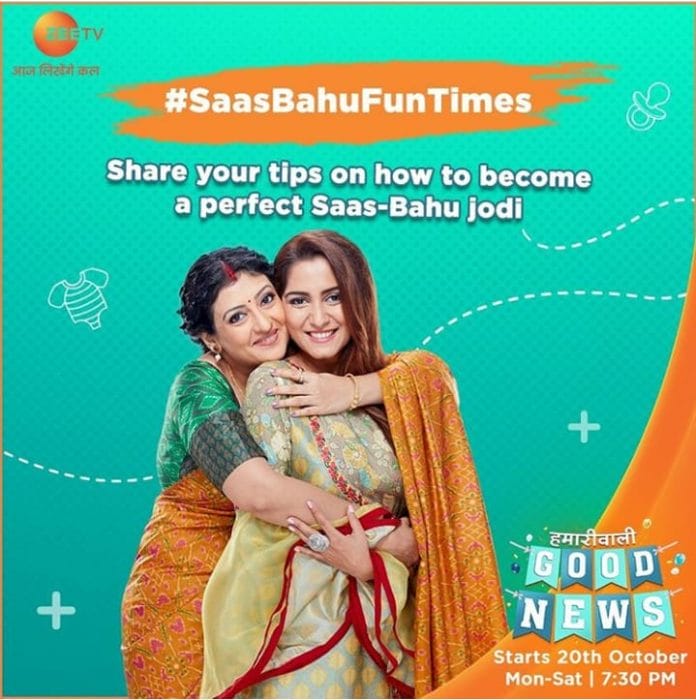 Good News Upcoming Story, Spoilers, Latest Gossip, Future Story, Latest News and Upcoming Twist, on Justhowbiz.net
Episode begins with Navya describing her place in Agra and how her mother in law renuka is the unique one. Here, Renuka scolds Sanju for hitting Navya's scooty. Renuka warns Sanju not to be seen in their locality. Renuka gets a call from Preeti, she says you know today different story happened, this Navya na..
Navya records on her i pad, today I made Karela from olive oil and not mustard oil, I got so many taunts but from the moment I have seen myself as the daughter of this family, I enjoy the taunts. Navya says when my mother in law can fight for my scooty, I can listen to her taunts. Renuka tells Preeti how in 3 years Navya has not learnt anything regarding cooking. Preeti says let it be. Renuka then says Preeti that now this modern washroom is being set up, I was against it but Navya convinced your dad. Navya then calls Renuka to see the western washroom. Renuka comes, Navya says go try.
Renuka says should I be trying infront of you. Navya says oops sorry. Navya goes. Renuka goes and with the cover on only she tries, she thinks it's comfortable. Navya says you liked it na. Renuka says I hope I don't get kubz. Navya says kubz is better than knee pain. Renuka says yes I want to play with my grand children without any knee pain. Navya ignores the topic and she says I going to arrange the god bharai of neighbours. Renuka says keep extra care as the neighbour's mother in law is like my sister. Navya goes. Renuka thinks it has been 3 years but when will Navya and Adi plan a kid.
Here Navya is listing things with her friend. Navya's friend is telling Navya to plan kid soon as people are talking ill about her. Navya says people have a work to gossip, I can't let my plans go because of that. Navya says Adi and I have planned so many things for our kids but right now don't have the correct bank balance for it. Her friend then sees some packets and says okay so this is how you stop kids from coming, I am telling you , say bye to these. Navya blushes and says not right now. Navya then thinks why has not Adi come. Adi is in office in a meeting with boss about some merger. He gets a call from Navya but declines it.
At home, Adi's dad arrive and he asks if Renuka has called didi. Renuka says I did twice but her bahu said she is busy both the time. Adi's dad then gives Renuka money for monthly house expenditure. Renuka says I need some more as Kusum is planning her bahu's god bharai here. Adi's dad say don't do so much for others. Renuka says neighbours have always helped us from taking to hospital to teaching tutions so now it's our turn.