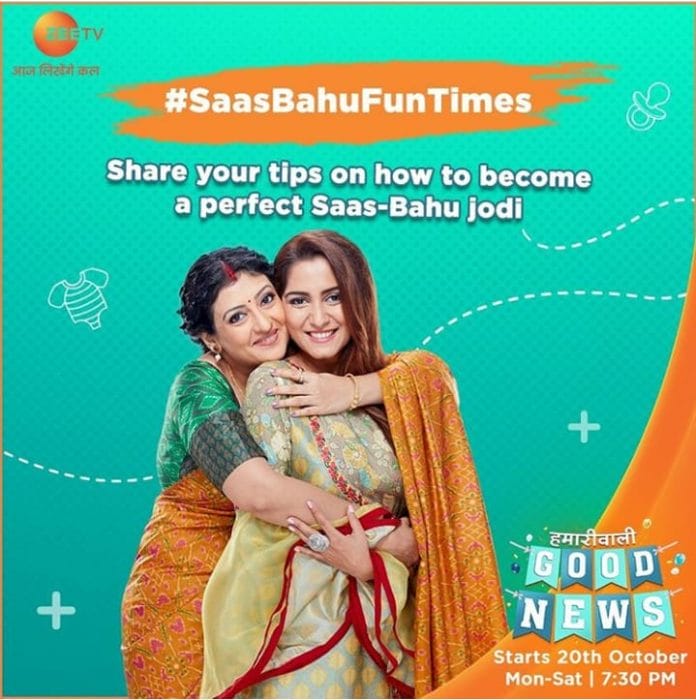 Good News Upcoming Story, Spoilers, Latest Gossip, Future Story, Latest News and Upcoming Twist, on Justhowbiz.net
Episode begins with Mukund asking Renuka if she asked Navya for kid. Renuka says we got late yesterday and now they are asleep. Mukund says you just need excuses. Renuka says if you are so keen you only ask to your dear bahu. Mukund says have you gone mad, how can I tell bahu. Servant comes and says i have got 2 kgs of ghee.
Mukund says who said 2 kgs, Renuka said I did, what's your issue when Kusum is paying. Mukund says but ultimately money is mine of electricity. Navya comes and says I will arrange it don't worry. Mukund tells Renuka to talk to Navya. Navya says what's the matter you guys can say. But no one is able to. Navya then goes for some work. Mukund says you better talk to Navya today or else my jiji won't be able to come. Renuka thinks what should I do now.
Renuka is getting ready and Navya makes her wear the saree in a nice bengali way as the theme is bengali. Navya says you don't look like yash's nani but as her mom. Renuka says but I want to become a dadi. Navya says ohoo. Renuka says today everyone will ask me about this in rasam, what will I say.
Navya says you dont need to say anything. Renuka wants to talk to her properly but Kusum comes and Renuka can't speak. Navya goes to see Adi. Kusum says that Sumitra told her also the condition she put forward. Renuka says but please don't tell anyone.
Adi is going to office. Navya tries to stop him but Adi says it's important. Navya says please say that you are getting a promotion. Adi just smiles. Navya and Adi romance, but Preeti comes and they get away. Preeti says let's go and bring Madhu. Navya and Preeti go. Everyone taunts Renuka about she being the only one who has not become dadi yet.
Renuka feels very bad. Navya and Preeti bring Madhu. Kusum praises Navya and her efforts for Madhu from day 1 of pregnancy. Preeti says to Renuka that nothing will change Navya's mind of not becoming a mom. Renuka gets upset. They all dance and enjoy.
Here, Adi is fired due to the merger of the company. There, Madhu suddenly feels contractions. Everyone panics as the pain came in so early months. They rush Madhu to an hospital. They are informed that operation has to be done prematurely as the mom and baby are at risk.
Here, Mukund tries to call and talk to Sumitra but Sumitra's bahu lies that Sumitra has vrat. Mukund realises that jiji is still upset. Mukund hurries to home and asks Renuka if you talked to Navya. Renuka says Madhu got into labor pain and Navya is in hospital so I couldn't talk to her. Mukund says I knew it, you better go to the hospital now and talk to Navya.
Renuka says what are you saying, she has gobe for a reason I can talk to him any day. Mukund says give me a date when my jiji will enter this house, or else it won't be good for you. Renuka is unable to calm Mukund down. Preeti comes and says Alok has called. Mukund goes in anger. Renuka says hello damad ji, sorry for the delay Preeti will just leave. Renuka says the phone got cut.
Preeti says I lied to save you from dad. Preeti says but on serious note you should talk to Navya about baby as even my mother in law was asking me if Navya has some issues. Preeti says you can't handle Navya so take Adi into your hand. Preeti goes. Renuka thinks everyone just scolds her or taunts her, what should she do. Here Adi packs his stuff from office sadly. Navya goes to see the baby.
Navya watches the baby and adores him. The baby holds Navya's finger, she feels a motherly feeling. She thinka of planning a baby too. She goes to tell all this to Madhu and how thousands of emotions are going inside her, she is so happy. Madhu is happy for Navya.
Episode ends.