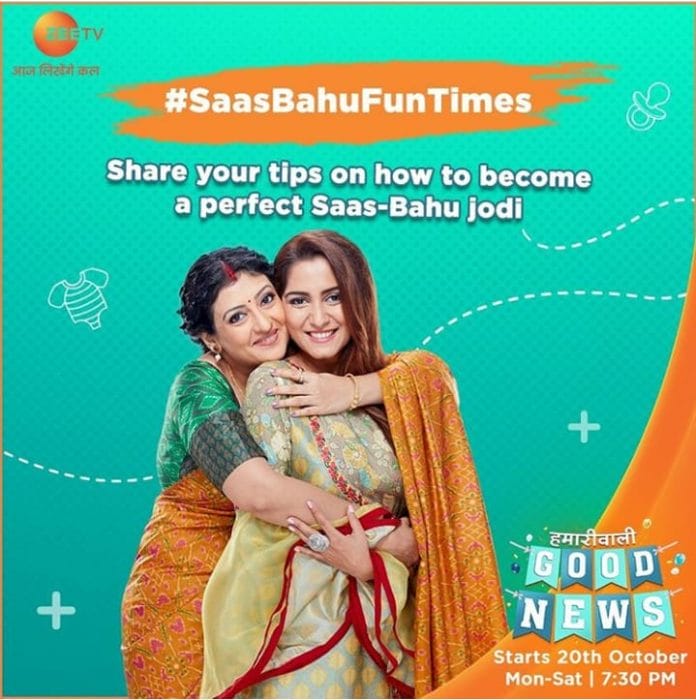 Good News Upcoming Story, Spoilers, Latest Gossip, Future Story, Latest News and Upcoming Twist, on Justhowbiz.net
Today's episode starts with Navya feels bad thinking Aditya talked rudely with him. Renuka sees her and comes to the kitchen. Navya asks Renuka is she too thinks she don't have a heart. Renuka says she understands. Navya asks Renuka if she don't want to know why Aditya behaved odd with her. Renuka says each time they fight, it ends up with Aditya being the culprit. Navya leaves the kitchen. Renuka decides to talk with Aditya about his and Navya's fight.
Ahead, Renuka feed food to Aditya. She tries to talk with him about his fight with Navya but Aditya fast eat the food. Renuka asks Aditya to start a family else Sumitra will keep taunting her. Aditya tells to Renuka that Navya left the house.
There, priest asks for thence but Renuka's husband refuses to give the stuff for free. He asks priest to go out from the shop. Meanwhile, Renuka learns Aditya lost his job. At the same time, a man informs Renuka that her husband is misbehaving with priest. Renuka goes to the shop and apologizes to priest. She asks a man out there to get priest do shopping from other shop.
Further, Renuka goes to meet Navya. She tries to convince Navya to come back home. Renuka discloses to Navya that Aditya lost his job. Navya feels sad for fighting with Aditya. There, Aditya goes to meet his friend at the hospital. He learns from his friend that Navya is ready to start the family.
Renuka asks Navya to start the family. Navya refuses to become mother because of Aditya. Later, Renuka goes to home. Her husband takes her signature on stamp that reads if before 'bahiya dooj' if Navya don't give good news to them than he will send Renuka jail. Renuka sits stunned and accuses Navya for all the mess.
Next, Aditya and Navya clear their misunderstanding. Duo gets ready to start a family. Navya and Aditya comes back home. In the meantime, Renuka mixes some powder in Navya and Aditya's milk.
Late at night, Navya keeps a record of her ovulation cycle. Aditya tries to get closer to her. Navya says for best result they should wait for the best days. Here, Renuka's husband watches TV and Renuka takes the remote from him. She asks him not to watch TV for one month. Renuka's husband says to her if within one month Navya don't give them good news that he will send her jail. Renuka hopes Navya and Aditya deliver the good news soon. Navya and Aditya drinks the spiked milk.