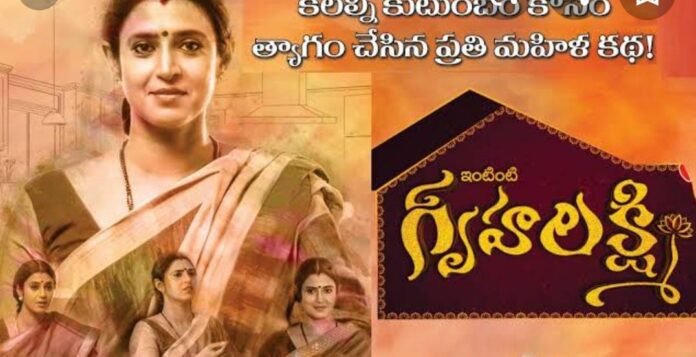 Gruha Laxmi Upcoming Story, Spoilers, Latest Gossip, Future Story, Latest News and Upcoming Twist, on Justhowbiz.net
Episode starts with  Prem trying to through Lasya out but Nandu stops him , Abhi scolds Prem for creating ruckus over small thing. Prem says is this a small thing for you who is reason for Mom tears, who is behind mom and dad speration how can you say it's a small thing for you?
 Abhi ok whatever happened is happened you can't change anything then why are you creatit drama! Lasya instigate Anasuya against Tulasi, see aunty first she said to stay me as she doing favour on me and create nice image infront of you all but see now after Prem coming home she instigate against me and throwing me out with out anyone getting doubt on her.
Tulasi says I am not like you think if you consider like that I can't do anything. Ankita says see aunty you did good for Lasya but return she is doubting your character only that's why we should not help unworthy people. Lasya gets angry by listening Ankita and says I don't want here by listening your words I will move out from here!
 Anasuya thinks all are sending  Lasya out from house I have to do something before they throw Lasya out! She plays drama i.e she gets panic attack and requests Tulasi to convince Prem that Lasya with Nandu here only.
Tulasi says leave it Prem now we can't change anything let Lasya stay here only.
Prem sitting dull in room, Shruthi comes there and asks him what happened Prem why you are so low today? Prem says what happened at Anand Nilayam. Prem says my dad never cared about me he always I am useless only, Mom is there for me to console me everytime and shower her love on me and encourage me over my small achievement that's why I am so close my Mom , I have created very strong bond with my Mom rather than Dad, but for once my Dad hugged me and congratulated me for singing a song nicely, on that day I felt everything will become fine and I can also get Dad share of love but everything changed once Lasya entered in Dad life, he is back of her and always think about her, started to neglect Mom now even get ready to marry her by giving divorce to Mom if all this are not enough he brought Lasya to Anand Nilayam and staying with her infront of Mom with out thinking how will feel by seeing them together under the same roof.
Shruthi says I can understand your pain Prem and your are correct only but why can't you do as Tulasi aunty say because she will someone is there to understand her but you did fighting with Lasya and hurted her more by your anger.
 Prem says sorry I can't able think anything in my anger by seeing Lasya presence at Anand Nilayam. Shruthi thinks already Prem is facing lot of problems, I became another trouble for him I don't want to create more problems in his life by staying here, I have to move from here as soon as possible.
Nandu's father feels pity on himself that can't able to do anything for Tulasi, Tulasi says don't think like that uncle you only belived me and wrote this on my name by keeping faith in me that I can only keep this family as one, this faith enough for me uncle. You are uncle for me for namesake only but you are Dad to me in real that who fight for her daughter happiness what you are doing now i.e you are against your own son when you felt he doing injustice towards me and fighting with aunty also for me only right uncle.
Nandu's father says what ever I may do but not providing happiness to you right my dear, I am helpless in making Nandu understand your importance and stop him from giving divorce to you nor I can't change Anasuya behaviour to you! Whatever happening in this house is not your mistake uncle don't blame everything on you, you are not responsible for Nandu prefer Lasya over me or Anasuya want to make Lasya and Nandu Marriage you can't do anything when your son only don't want to leave with me , you leave all this uncle it effect your health only.
Madhavi comes to Anand Nilayam when she got to know Anasuya health is not good. Madhavi asks how is your health now Mom! Anasuya dramatically says I am alright now but I don't know how many days I will stay before that I want to see Nandu and Lasya marriage, Madhavi gets angry by listening her words and scolds you will never change its time waste making you understand.
Nandu along with Lasya and asks Madhavi why are troubling Mom? Madhavi says leave about it my dear brother, first you say how can you bring this Lasya to Anand Nilayam and staying under same roof where Tulasi is stayy from years don't you have any shame? Nandu says I given promise to Lasya that I will protect her so she is staying here along with me!
Madhavi taunts Nandu it's awkward to listen promise word from your mouth then what about promises you given to Tulasi on your marriage? What about promises you given to her in these 25 years of your married life? Nandu gets drumstuck by Madhavi questions.
Precap: Deepak comes to Anand Nilayam and questions why Lasya staying in this house, this leads to huge argument between Nandu and Deepak all tries to stop them.