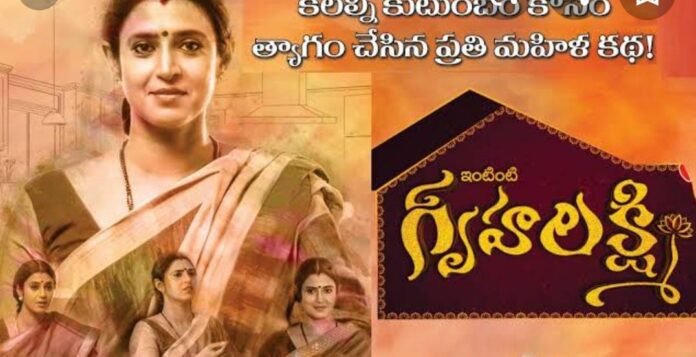 Gruha Laxmi Upcoming Story, Spoilers, Latest Gossip, Future Story, Latest News and Upcoming Twist, on Justhowbiz.net
Episode starts with Tulasi saying two needs to tongo if Nandu wants to leave me to what extent I can stop him Madhavi. Madhavi says previous Dusshera is so joyful we celebrated it with singing and dancing and now this Dussehra is remembered as a bad dream. Tulasi says you are saying correct previous Dusshera is so joyful everyone are there now the situation is totally different everyone seen there own way and this is my last festival in this house wants to celebrate it grandly, but see now no is there to celebrate it and remember Divya what she did last year how happy Divya is but this year she not even there in the house.Madhavi says don't feel Tulasi why don't you call her? Tulasi asks will she come if I call her? Madhavi says why not ! You are her Mother there may be lots of difference between mother and children but if mother calls them love they( children) will come for sure, don't think more about anything just call her Tulasi.

Tulasi calls Nandu and says for every Dussehra I want to organize Golu(Bollamna Koluvu) and I want to celebrate it this year so please send Divya here. Nandu says it's ok Tulasi you can celebrate Dusshera like every year I will send Divya there for Golu (Bommala Koluvu). Lasya comes there and says Nandu how can you take decision on your own. Now Divya is staying in this house I will take every decision belong to Divya from now, and takes phone from Nandu and says Tulasi Divya don't need her she don't like you, so she came here to stay with me and remember from now on you should take permission of me in the matters not Nandu permission, from now Divya as to do everything by my permission. I will only organize Golu(Bommala Koluvu) and celebrate Dusshera.
Madhavi takes phone from Tulasi and says to Lasya who the hell are you to come in between Mother and daughter, don't try to separate them by taking advantage of situation. Lasya says I am not doing anything there are already differences between Tulasi and Divya so she (Divya) choose me above Tulasi and came here. Madhavi says she is small to understand all this if she understands her mistakes she returns back to her mother. Lasya says so you are trying to create situation to get her back.
Divya is Nandu daughter I too have responsibility on her, so I will organize Golu for this Dusshera for Divya you don't worry about it. Madhavi taunts Lasya what you know about Golu(Bommala Koluvu) it's not like your weekend party. Lasya says if I want to do it I will do.
Madhavi asks Lasya you will organise Golu but who will come to your house to celebrate it think about it then you will know whether you can organise Golu or not. Lasya in anger gives phone back to Nandu and says I don't want to give explanation to everyone and now it's your choice wether you sent Divya there not you only decide and says I will send Divya there for Golu (Bommala Koluvu).
Shruthi comes to her house crying , her father asks why are crying dear please say me what happened why are crying. I felt you are happy with your husband but you came here crying did Ashwin and you fight with each other? But Ashwin is not like that guy he loves you so much he will never hurt you. Shruthi remember Ashwin miss behaving with her and says to her father you always believe Ashwin but you can't trust this daughter anytime so Iam not saying anything with you.
Shruthi father calls Ashwin and enquiries what happened between them Ashwin says Shruthi again started meeting Prem when I said you were doing wrong she fight with me and came there uncle. Ashwin says you don't say anything to Shruthi, if she cries I can't see her crying her uncle I will come there and make understand her uncle you don't worry.
Nandu says Tulasi called her and invited her to celebrate Golu (Bommala Koluvu), but Divya keeps a condition I will go only if you come along with me dad. Nandy says ok I will also with you now sleep it's already late. Lasya says Nandu you decided to go there by leaving me here alone right? Nandu says who said you are staying alone,you too coming with us and my final decision be ready.
Precap: Tulasi asks Divya to keep lord statue and Dolls at Golu(Bommala Koluvu), Divya says when I don't need you why are you performing all this Mom. Lasya say's why are you forcing Divya when she didn't want to do it. Tulasi says to Divya we not only learn from textbooks, we can learn from this rituals also Divya come and keep these Dolls in Golu (Bommala Koluvu).