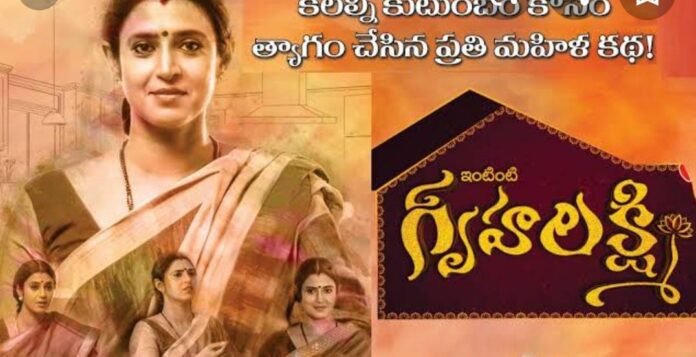 Gruha Laxmi Upcoming Story, Spoilers, Latest Gossip, Future Story, Latest News and Upcoming Twist, on Justhowbiz.net
The episode starts with Prem feels sad while thinking about Shruthi. His friends calls him for practice but seeing Prem in dull mood asks if he is thinking about Shruthi. Prem says yes, Shruthi is very nice girl and she got bad husband and went far from everyone and she is avoiding me thinking she may disturb my life and I couldn't trace her whereabouts.
His friend asks why you're trying so much? Do you want to marry her? Prem says she is married, I just want to support her as friend to correct her life and her Dad is not understanding her, she came to our troop and saved our respect by helping us when she is unknown to us and now she is our friend and we have to clear her problems. His friend says he will ask his police friend to trace Shruthi number. Prem agrees.
Nandu comes to his Dad. Dad asks if he needs to discuss about property share from him. Nandu says I don't need property, i just need courage and secure feeling from you because I'm unable understand what's good and what's bad so please show me good way, Mom wants to make us marry to Lasya asap but I'm not ready yet. His dad asks what I can do? You're responsible for this condition. Nandu says till now I'm not divorced Tulsi and need one chance to correct my mistake. His dad says time is crossed.
Tulsi asks her father in law to check the firm she filled and she about to leave seeing Nandu but her Father in law stops Tulsi and tells her that Nandu is asking for chance to correct his mistake and he is saying that he don't want to marry Lasya. Tulsi says we are in different ways so his opinion won't matter to me. Nandu says I'm not going to marry Lasya than what's the problem dad. Tulsi asks if he don't want marriage or Lasya.
Nandu says Lasya left everything from me , decides to commit suicide for me so it won't good if I leave her completely. Tulsi says don't know how he will settle everything and she asks Nandu to think what he wants to do because their is noone who give suggestions to him. Nandu leaves. Tulsi father in law says application is good and asks her to learn English from him. Tulsi agrees.
Abhi tells to Ankita that he never expected suicide move from Lasya aunty. Ankita days she is stupid that's why Risking her life to fulfill her demand and she is not giving space to your Dad. Abhi says don't know why Dad is changing decision. Ankita days uncle is not ready for marriage.
Abhi asks how many days Lasya can wait. Ankita days leave all these, let's think how we can go to foreign quickly for our higher studies. Abhi says we need bank balance which we can't provide at this time. Ankita says let's start practice so we can get experience. Abhi denies and asks Ankita to get money from her Mom. Ankita says it might be disrespectful to Aunty and uncle. Abhi says he will asks his mother in law if she can't.
Tulsi thinks about Nandu promise. Lasya asks what you're thinking? Do you know I'm not weak to commit suicide, I did that plan to make Nandu agree for marriage. Tulsi says I realised you're acting once you gain the conscious and you may feel that you're betraying everyone but you're betraying yourself and very soon everyone will know your real face and you will realise that you can't get Nandu. Lasya says she can't stop her marriage.
Tulsi says you're living in illusion and your marriage won't happen with Nandu. Next day Ankita Mom calls Tulsi. Everyone assembles in hall. Tulsi asks what happened. Ankita Mom asks if Prem parents won't have money to send him to higher studies? Family members gets shocked.
Precap – Lasya happily informs to Anasuya that Shekar signed the divorce papers.