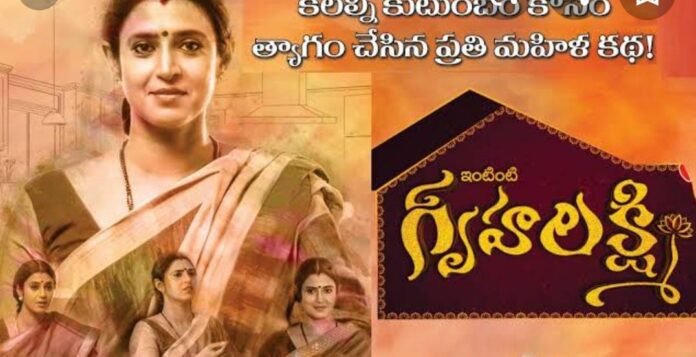 Gruha Laxmi Upcoming Story, Spoilers, Latest Gossip, Future Story, Latest News and Upcoming Twist, on Justhowbiz.net
Episode starts with Madhavi questioning Nandhu what about promises you made for Tulasi?  Anasuya taunts Madhavi did you came to see me or to create misunderstandings between us. Lasya says Madhavi is doing all this to separate us, she never liked me.
Madhavi says see Mom who is creating misunderstandings between us what I said and what she understood and you are supporting this kind of human as your Daughter In Law great now you will not understand anything if we try to make you understand because you are blind in love of this Lasya. Anasuya says I know you don't need to teach me I know who is who that's why only I want this marriage as soon as possible and my son happiness lies in Lasya.
Madhavi says then what about Tulasi and you all are spoiling her life great! Anasuya says know one wants to spoiling her it's  written in her destiny no one will change it. Tulasi says you are saying correct Mon it's written inmy destiny and you should get married them as soon as possible it is good for all of us only. Anasuya says I don't need your suggestions, I will get them married soon. Nandu says it's not easy as you say Mom because she still not get divorce from Shekhar.
 Anasuya asks Lasya to take divorce from Shekhar soon but before that I will do  your both engagement. Tulasi says good decision Mom. Madhavi questions Tulasi what are you doing Tulasi instead of fighting for your rights you are supporting them and spoiling your life with your own life. Tulasi says because I don't want to change anything whatever happening because  don't want to leave in such relationship where I don't get respect.
Shekhar calls Lasya and asks her for his balance amount! Lasya says t don't have money to give you. Shekhar taunts don't feel happy that you have escaped from me since you changed the house, settled in Anand Nilayam before getting married to Nandu, I must say great plan Lasya but I will not leave you that easily Lasya I want my money or else I have to start think about your engagement which is going to happen very soon with Nandu.
 Lasya gets shocked by hearing his words and questions how do you know about my engagement are you joined hands with Tulasi to seperate us? Shekhar says Tulasi is not like us she is very good don't blame her for everything, she just need to vlead her life with respect and you can't compare you even with dust in her foot. Instead of thinking how I got to know about your engagement just think about how you have settle my balance amount very soon or else you very well know about me l don't need to explain you Lasya and drops the call.
Abhi calls Ankitha while coming in to there Room, but Ankitha not responds to his words and sit silentnly. Abhi says why you are not responding when I am calling you, Ankitha because I don't want to. Abhi asks what kind behaviour is this, Ankitha taunts ohh you hurt by  my behaviour if I don't responded for your words just for once but have you ever thought how your Mom felt all this year when you all are treating her and now also you kept silent instead of questioning your dad how can he keep that Lasya in this house that too infront of Tulasi aunty. Abhi says what is the wrong in that they both want to lead there relationship and staying together.
 Ankitha fumes by listening Abhi words and says you always thinks about your dad but never ever tried to hurt Tulasi aunty before our marriage I used to think you are very matured who takes wise decision in every problem of life but now I know you are idiot who don't support his Mom when she needs you most and moves from there. Abhi thinks why Ankitha creating this much drama over a small thing.
Deepak enters Anand Nilayam by shouting Nandu name, all comes out by listening his shouts and questions him what happened? Deepak fumes and starts questioning Nandhu how can keep this here when they are not married yet?
 Lasya instigates Anasuya against Tulasi see aunty she first instigate Prem against me and now her brother so that I can leave this house and go by myself. Anasuya says she is always like she can't digest anyone happiness. Deepak warns Lasya don't even take Tulasi name from your mouth my sister is not like you who came in between a married couple and separated them, you are such a characterless woman.
 Lasya see Nandu how he addressing me you will not say anything now also and remains silent after his taunts also! Deepak says he can't answer me back because he knew what ever he did or doing is wrong so he stood silent. Nandu says l am listening to you it doesn't my you are correct and I am wrong Deepak and both starts arguing with each other by holding eachother collar, everyone tries to seperate them atlast Tuksaiy slaps Deepak and says yout sister is died for you from now on and don't ever come to this house to create more problems already this house is full of mess.
Precap: Anasuya handover Gold ornaments to Lasya, Prem comes there in mean time and takes them from Anasusya hands and questions her what she is even doing? Ankitha supports Prem.