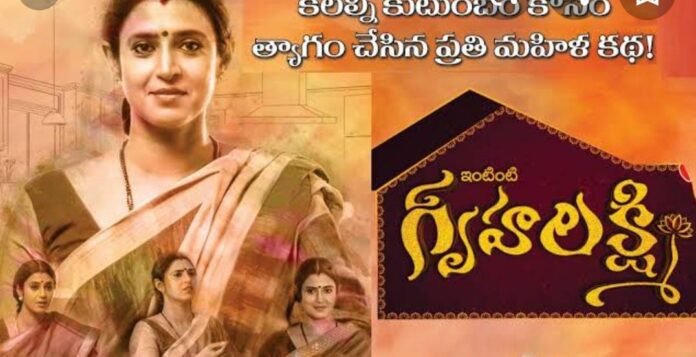 Gruha Laxmi Upcoming Story, Spoilers, Latest Gossip, Future Story, Latest News and Upcoming Twist, on Justhowbiz.net
Episode starts with Deepak says I can't stay silent if anything wrong happen with you! Tulasi says you came here and created ruckus I am here right think from now I am no more I am dead for you ( Sad version of title song plays in background). Prem comes to his friends house and calls for Shruthi but he can't find her anywhere, he got tensed by not founding her in the house.
Shruthi comes at the same moment and informs Prem that she went to market, Prem request her not to go like this again with out informing him. Ankitha calls Abhi and asks him to come home early by saying whatever happened in his absence, Prem says he is coming. Shruthi says to deal with out scolding your dad and don't hurt your Mom more by your actions be patient instead of anger, Prem says ok Shruthi and starts from there.
Tulasi sit sadly by remiscenes what ever happened, Prem comes there and asks Tulasi why are you sad because you slapped him right! Tulasi says Yes because I slapped him with out his fault. Prem asks you are only Deepak uncle is not wrong then why you slapped him and feeling now Mom when you also know Deepak uncle is right and Nandu is wrong. I know Nandu is wrong what ever he done with me for Tulasi but I can't able to take when Deepak caught his collar and slapped him because once he ( Nandu) is my husband and I loved him so much that's why I slapped Deepak to stop the fight.
In morning Anasuya gives ornaments to Lasya, Prem comes there and says he will not allow Anasuya give this ornaments to Lasya because she have no rights on this Ornaments. Anasuya taunts Prem I am doing all this In my conscious only you don't need teach me because now Lasya is going to become Daughter In Law of this house so I am giving these ornaments to my lovable Lasya.
Prem says do it once when she officially becomes your Daughter In Law but not now, Anasuya says I know you are doing all this because of Tulasi you are acting According to her tune. Ankitha says Stop it grand mother don't blame Tulasi aunty for everything she not did anything Prem is asking you questions deal with him instead of blaming Tulasi aunty. Anasuya starts taunting Tulasi more, Tulasi comes there and says I am nt greedy, I can earn for myself what I want, I don't need anything take your ornaments and give them to your Lasya only.
Anasuya handover ornaments to Lasya, Lasya smiles wickedly by seeing Tulasi. Nandu says what ever you are doing wrong I am not liking it all, this ornaments belongs to Tulasi not Lasya. Lasya fumes by hearing Nandu words and questions with whom he want to live further Tulasi or Lasya? Nandu can't able to answer Lasya question. Prem asks Nandu why dad why can't you able to answer Lasya few years ago Mom is your everything but you can't able to agree for it openly why dad why changed this much after Lasya aunty entered in your life.
Abhi don't like Prem asking questions to Nandu, he says Prem to stop creating drama over small things and Stop questioning Dad as he did some crime, why can't you stay silent for some time. Prem says you might be stay silent when these people hurting our Mom by there words and actions I am not like you to stay silent when dad is giving Lasya place beside him instead of Mom, when he get ready to divorce Mom for this Lasya, when be is ready to marry this Lasya by leaving Mom because I can see Mom pain which you can't able to see anytime.
Abhi gets angry by listening Prem words and starts arguing with Prem. Nandu stop's and says you both are brothers but behaving like an enemies because of you both our family respect will be ruin. Nandu's father says already this family ruined because of you, you don't have any rights to question them because whatever happening in this it's because of you and your Lasya only.
Nandu scolds Lasya are you happy now with all this fights and taunting each other that's why only I said with you I don't want to come here again because I know I have to listen all there words.
Anasuya says why are you shouting at Lasya instead of Tulasi who is reason for everything. Tulasi gets hurt by Anasuya words and says to Prem when we don't have any right on this family or family members we should not speak more let's go from here and moves to her root along with Prem. Anasuya says I will celebrate this grandly because my favourite Lasya first festival in this house whoever like it or not.
Precap: Nandu brings new clothes for everyone for festival.