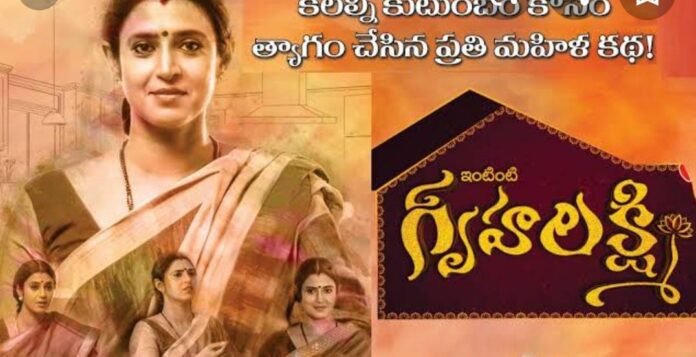 Gruha Laxmi Upcoming Story, Spoilers, Latest Gossip, Future Story, Latest News and Upcoming Twist, on Justhowbiz.net
Episode starts with Nandu bought new dresses to everyone but Nandu's father, Ankitha rejects his offer, Anasuya and Abhi taunts them they don't have minimum when someone giving you with love we should not reject it, can't you people see his love in this and understand him never but always ready to hurt him by your words.
 Lasya supports them and starts taunting Ankitha you are crossing your limits daily by creating dramas everyday, Anasuya says she is mingling with Tulasi more now a days so her behaviour towards us is like this it's not her mistakes Lasya. Nandu says leave it we can't pressurize some one to take anything when they like it.
Lasya happily checks bags in Nandu hands what he have bought for me? She sees two sarees and thinks he bought for Tulasi also, Anasuya says Lasya you look beautiful in this saree keep them with you. Nandu says no Mom in this one saree belongs to Tulasi I bought it for her, Anasuya says why you bought this saree for her she is not your responsibility now!
Tulasi says I also don't want it because I am happy  with what I have, I too don't want anything from him. Lasya says let it be aunty o festival when we all wear new dresses why should only Tulasi wear that old dress. Lasya moves to Tulasi and asks her to select the saree, Tulasi says I don't need anything which don't belongs to me Lasya, I am not like some one who changes there decision frequently based on there profit, my character is not like this if dresses are become old or relation become hard to maintain means leave them and searches for new relation.
Lasya asks what do you mean by it? Ankitha says she is saying that she is not like you when you have already in one relationship instead of protecting it if you have problems in that relation, searching for an new relation is wrong. Lasya repiles if someone entered in other relation it's there mistake but it there who left that relation go away from there when they have chance to protect it, but not now giving lecture to other person when she lost everything and giving lecture to me, Tulasi and Lasya starts exchanging there difference in opinion and at last Tulasi stand on her words and don't take Saree which bought by Nandu to her and moves to her room.
Nandu comes to Tulasi room with saree he bought for Tulasi and request her to take it or else he will feel bad, Tulasi asks bad means in what way? Nandu says if she not take it he will hurt that they that far even he can't offer her one saree atleast.
 Tulasi says till you don't understand it Nandu we have become that far that we even can't meet again! Nandu says don't say like that Tulasi still I respect you and care for you, I bought you this colour saree for you only with love because you like it. Tulasi melts for his words and takes saree and feels happy.
 Ankitha sees this and asks when you both love eachother I can see it Aunty why you are taking divorce, Tulasi says because I love your uncle so much, you know your uncle married me against his parents wish and loved me like anything, if he ask I am ready to kill myself, since I love him to the core.
Morning Lucky and Divya both plays happily Madhavi comes there and blesses them, moves inside. Tulasi welcomes her happily, Lasya questions her why you are so late Madhavi all are waiting for you, Madhavi says it's her house she can come here anytime and anyday with out permission not like you as you are a stranger to this house till you marry Nandu so don't interfere in this house matter. Lasya asks Nandu see how your sister talking with me! Nandu says she is not saying anything wrong she have more right than you on this house.
Nandu thanks Madhavi for coming, Madhavi says how can I not come my brother like every year I have to perform pooja here, later Madhavi gives Aarti to Nandu and his father. Tulasi offers her saree but Anasuya stop's her from giving it to Madhavi with her hands and calls Lasya to give saree to Madhavi.
Precap: Tulasi gets ready to perform Laxmi Pooja but Anasuya stop's her from perform rituals by her hands and handover pooja plate to Lasya asks her complete the ritual.