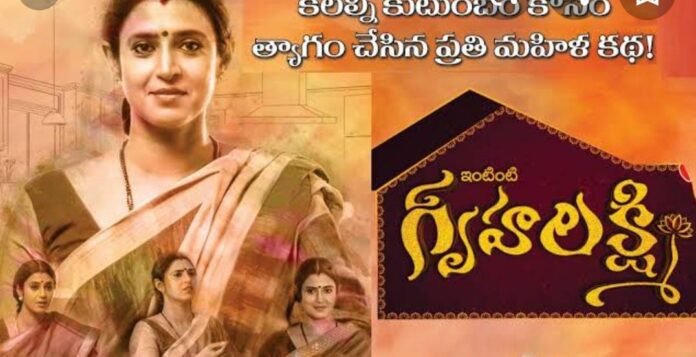 Gruha Laxmi Upcoming Story, Spoilers, Latest Gossip, Future Story, Latest News and Upcoming Twist, on Justhowbiz.net
Episode starts with Tulasi gifting new saree to Madhavi as an ritual. Anasuya stops her and says Tulasi is going out of this house and Lasya is going to become Daughter In Law of this house so this ritual also complete by Lasya not Tulasi. Madhavi says see Mom if you don't like Tulasi and love this Lasya I don't care about your decision but don't force your opinion on me, even though I don't like what Nandu did but I came here to perform ritual like every year, so if you people want me to gift me saree then it should be given by Tulasi hands only not by Lasya who does not belong to this house.
Lasya instigate Nandu over Tulasi see Nandu how Madhavi is insulting both us, Nandu says if you don't interfere in others matter why they will get chance to say something to against us, Tulasi will only present saree as Madhavi wish. Tulasi says I also want to present gift to lovable Sister In Law ( Madhavi) but you only taken my rights and given to another woman Lasya then how can I present her saree.
 Nandu's father says if it comes to rights this house belongs to Tulasi you are the owner of this house by that right present the saree to Madhavi and send her happily not by making her sad understand Tulasi. Tulasi says ok uncle I can't go against your decision and I can't hurt you more, ok I will present this saree to Madhavi and complete ritual like every year, Tulasi gift saree to Madhavi and Madhavi feels happy.
Bhagya starts her drama and says it's nice uncle you wrote this house on Tulasi name and Madhavi getting her gifts according to ritual but what me and your another Son get in return nothing! Why this much partially to us uncle don't you remember your second daughter in law and second son when you are writing this whole on Tulasi name?
Nandu's father said I did what is good for all at that situation more over this house is earned by hard work not by anybody help and I have full right to decision on my hard earned property, I can given to whoever I like it. Madhavi says good very good uncle and starts questioning him then want about your second son right uncle so write half of this house on your second son name, Abhi supports Bhagya says right Grand father Bhagya aunty is right how can you hurt your another son take away his rights from him this house also belongs to uncle your second son, you shouldn't not this partiality.
Tulasi gets hurts by listening Abhi words but not say anything as she don't want to spoil festival environment, But Nandu's father gives him answer by saying this house belongs to me and I am the head of this I can do whatever is good for everyone and know why have right to point out my decision because I earned this house by my hardwork not by anyone of your money, so my decision is decision is final and this house belongs to Tulasi only if anyone like or not.
Bhagya gets hurts by listening to his words ok if this house to Tulasi and I don't have any right on this house then I don't want to stay here anymore I will leave this house immediately and starts leaving but Tulasi stops her and requests her to stay until festival complete all will be happy! Bhagya says no I can't stay here more because if I stay here it will remember be that I don't have have any right on this house and I will get more irritate by seriy your presence only so let me goy way and you celebrate festival in your house Tulasi.
 Lasya stops her and says I know you are hurt by whatever uncle did but stay for aunty she will be pleased by your presence, Bhagya says ok Lasya I will stay only because your are saying. Anasuya praises Lasya you are great before becoming Daughter In Law of this house but see some one who are always ready to spoil the environment of this house and taunts Tulasi.
In evening Anand Nilayam gets Fully decorated to perform Laxmi pooja, Anasuya says this year Laxmi pooja will perform by Lasya since she have more rights than this Tulasi, Madhavi , Prem and Ankita opposes her decision but Anasuya is don't listen to there words and asks Lasya to do pooja! Lasya starts performing Pooja but pooja plate slips from her hands while performing ,
Tulasi catches it on time! By seeing all feels happy and says God also want to perform pooja by Tulasi hands only not by Lasya hands. Nandu says Tusali to complete pooja by her hands like every year. Tulasi perform pooja and distribute sweets to everyone after completing pooja. Later every celebrate festival happily by firing crackers.
Precap: Lucky questions Tulasi Diwali means only fireing crackers? Tulasi says no my dear we celebrate this festival on winning good over bad, we started celebrating this festival after lord Krishna win good over bad by lightning Diya's.