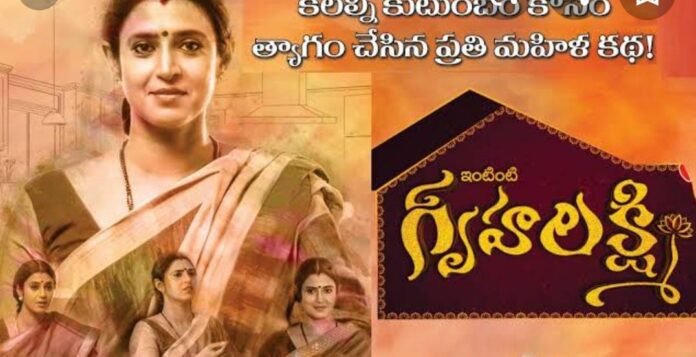 Gruha Laxmi Upcoming Story, Spoilers, Latest Gossip, Future Story, Latest News and Upcoming Twist, on Justhowbiz.net
The episode starts with Tulasi saying I always wants to leave my life with my love till my last breath, but time is not favour of me! So doing according to the situation. Lawyer comes near Tulasi and says it's already late and Nandu as not came till now if you call them and know by what time they will be here we can start the procedure.
Tulasi says lawyer you only call them enquire by what time they will be here. Lawyer calls Nandu and asks to come soon. Lawyer comes to Tulasi and says they are near only once Nandu come we can start the process. Lawyer says to Mohan I will get ready the documents and goes from there.
Mohan asks what are thinking Tulasi, Tulasi says nothing brother I am just thinking why all this are happening. Mohan says I can understand your pain Tulasi, how much pain you are carrying in your heart also I know Tulasi, I will ask Nandu to change the decision for one last time. Tulasi says don't do that brother because we can love or respect forcefully it have to come from heart then only relation will be strong. Mohan asks if Nandu really wants to take his decision back let me try! Tulasi says I know he will not take his decision back and he will go to any extent to prove he is correct and will give divorce to me nothing is going to change, so I have decided for everything before stepping out of the house only.
Prem asks what is the process uncle? Mohan says the magistrate listen two side points and take decision. Lawyer asks Nandu and Tulasi you both are willing to take divorce? Is it your final decision? Both says yes. Lawyer says ok and asks them to sign on papers, both (Tulasi and Nandu) signs on paper ( sad song plays in background). Nandu and Tulasi present infront of megistrate( both of them reminiscences there beautiful memories they spent together).
Magistrate asks why are talking divorce after 25 years of marriage? I know you both are matured and take decision wisely but I think this is not an wise decision, rethink your decision once because in future you both should not regret about your decision. Tulasi says if we decided to stay away from each other then there is no point in living together and our decision not going to change. Magistrate asks Mr NandhaGopal what is your decision? Tulasi say's he got heart attack because of me and he is not happy with me, this reason is enough for him to give divorce to me. Nandu says l want divorce.
Magistrate says ok! According to law we can take alimony from husband or you willing to take Alimony from your husband? Lasya thinks why can't she demands for it sure. Tulasi asks what is alimony? Megistrate explains her about Alimony. Tulasi says when I with him only, I always dreamt about I have earn money for my self and want to stand on own legs because I don't want depends on someone money and when we are getting divorce why I want his money?
I don't need alimony. From marriage to till now l showered my love and affection only and not expected anything in return for it. Megistrate says ok it will take some time to complete the process till then you have to wait and if in between you want to take your decision back means inform court because court never wants to separate any husband and wife.
Tulasi slips while getting up from chair, Nandu catches her on correct time before Tulasi falling down( song plays in background) both sees each other and feels sad.
Precap: Ankitha mom taunts Tulasi if she only did all are duties correctly then why Nandu choose another woman. Tulasi is responsible for this divorce. Abhi says yes if mom only stopped dad before taking divorce this day have not come today. Prem says to Ankita's mom you came here to your daughter so see her and go away but don't to create misunderstanding between mother and son.