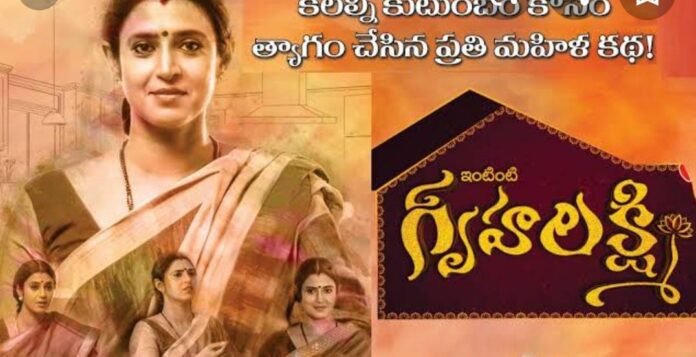 Gruha Laxmi Upcoming Story, Spoilers, Latest Gossip, Future Story, Latest News and Upcoming Twist, on Justhowbiz.net
The episode starts with Bhagya and Lasya planning together against Tulasi how they have to hurt her and get the house from her and throw her not only from this house, from life of Nandu.
Prem informs Shruthi friend Mandana that Shruthi is with him and says she is not sharing her problem with me at all but she don't want to go back to her home. If she shares her problem with us only we can slove her problem right please once you talk with Shruthi might be share her problem with you, Mandhana says ok Prem.
Rajamma( Maid) doing her work in kitchen, Lasya comes there insults her by talking harshly and asks her to prepare food for Nandu, Rajamma denies her by saying I am working under Tulasi not under you and she is paying my salary so I will do if Tulasi madam says only not by some one who don't have any relation with this house.
Anasuya listens to there words and scolds maid for her behaviour with Lasya and you learnt all this from Tulasi she don't know how to see people according to there status and position, wait I will teach you lesson now only and calls Tulasi and says her how Rajamma is behaving with Lasya and all this because of you only. Tulasi says to respect Lasya from now and do whatever she says, Rajamma says ok Tulasi.
Shekhar rings calling bell of Anand Nilayam and Lasya open the door but get's shocked his presence in Anand Nilayam, Lasya drags shekar out of the house and questions him why he came here? Shekhar says wow Lasya you are behaving as you don't know anything about me l came here for my money.
Lasya request him to go from there before someone see us together which is not good for me and my relation with Nandu please move from here I will give you money for you by evening. Shekhar gives her warning and goes from there. But Tulasi sees Lasya talking with shekhar.
Mandhana comes to Shruthi and asks what happened with her and why she is staying here? Shruthi shares her problem with Mandhana and request her to find some job for her as she wants to move away from Prem friends place since she don't want to create problems in Prem life if Deepak find Iam with Prem he will hurt Prem which I don't, please Mandhana find a job for me as of now so I can earn for myself and leave this place as soon as.
Mandhana says ok Shruthi I will help you in getting job but after that what you will do? Shruthi says l don't know but I can't go back to my house also since my dad is not in stage of believing my words, he completely brain washed by that Deepak. Shruthi request her to go to her house and see how is her father now! Is he ok or not. Mandhana says ok Shruthi I will do it for you but you be careful and try to be happy.
Tulasi says you are doing wrong Lasya at a same time you are in two relations which is not for and Nandu since now Nandu life interlinked with your life. I have not said anything today since I don't want to spoil harmony of this house but in future if Nandu life will be on stake means I will not leave you. Lasya says I have not done anything wrong that you should give warning to me. Tulasi laughs and says you think like that Lasya it's your luck that I have seen you talking with shekhar if someone is there in my place means situation is different Lasya be happy for that and behave properly at least from now.
Precap: Lucky goes missing and Tulasi feels tension for him and searches for him in whole house but can't find him anywhere. Lasya blames Tulasi in Lucky missing from home.