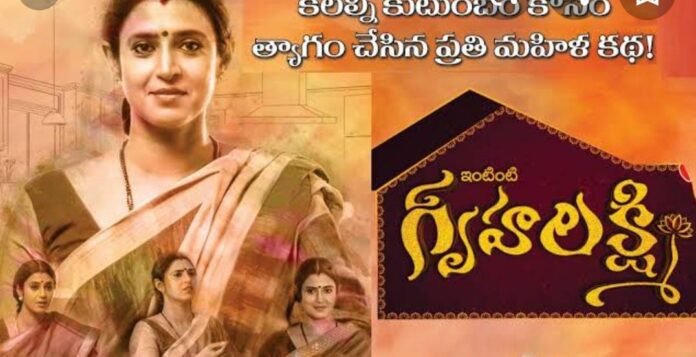 Gruha Laxmi Upcoming Story, Spoilers, Latest Gossip, Future Story, Latest News and Upcoming Twist, on Justhowbiz.net

Episode starts Tulasi says Gayatri I have did everything to stop this divorce, When I understood I can't do anything I stayed silent. Gayatri says you stood silent but this society will not stay silent right? They are taunting me Gayatri you have given your daughter to such a low family who are getting divorce after 25 years of marriage. When a woman can't protect her own relation then how can she show good path to your daughter or her son ? What should I answer them Tulasi?
Where should I keep my head for there questions Tulasi. Prem says aunty when you can't say something good about some one atleast Don't say dad also, as a relation when a family in problem atleast help them but don't taunt them by your words aunty, think twice before saying aunty how much your words hurts others.
Ankitha supports Prem and says Mom when you have this much problem with this house and what's happening here don't think about it much and I am happy here don't worry about me. Tulasi says Gayatri no woman wants to break her marriage on her own but I signed on those papers because I am happy in his happiness only since I love him a lot and his happiness lies in staying with Lasya so I signed on divorce papers, feels sad by this words.
Nandu's father consoles Tulasi on the other hand Anasuya taunts Tulasi. Nandu's father says Anasuya you dreaming one day that your son come here and stay with Lasya from that they day only your bad days are going to start because you will know the real face of Lasya when she is near to you and you will understand the importance of Tulasi.
Deepak asks Tulasi why you signed on those divorce papers? Why you not said at least a word with me before signing? Tulasi says what you would have done if I informed you ? Deepak says at least I would have tried to talk with Nandu to stop the divorce! Tulasi says and he would have listened to you right?
No you can't Prem and Mohan are with me did they able to do anything to stop the divorce no right? When we know the result what is the point of saying samething again and again. Deepak says at least I tried to stop you from signing. Tulasi says then what should do instead of signing? You need me to beg him to love me like I do or stop him going near Lasya?
Deepak says why you will beg him akka you are his wife legally and you have full rights on him and to protect this relation if your husband doing wrong . Deepak says ok whatever happened is happened why you are staying here when you have no relation with this house come to our house atleast along with me. Tulasi says I have few responsibilities to full fill here once I complete them I will comt our house. Deepak request Tulasi come for few days at least your health gets cures. Tulasi denies it.
Nandu calls Tulasi to enquire about her health. Tulasi replies why e called me now and Iam good nothing happened to me. Deepak takes the phone and lashes out Nandu why you called her now? Is it not enough what you hay done with her after this many years of marriage. Nandu says try to listen me! Deepak says what should I listen that I spoiled your sister life please adjust with it or I played with your sister marriage be happy.
Deepak lashes out Nandu left and right. Tulasi try to Stop him and says to Nandu don't feel bad by his words he is said those words his anger. Nandu says What ever he is saying correct only Tulasi I did wrong with you and request Tulasi to go hospital with Prem. Tulasi says ok and drops the call. Tulasi says to talk slowly with Deepak if uncle listens to you he will feel bad. Deepak says good akka very good you always think about others but do you ever think about yourself atleast once what will happen to after this divorce? . Tulasi says I am good don't worry about me.
Tulasi and Nandu both reminiscences eachother and feels sad ( sad music plays in background) Lasya comes there and asky what are you thinking deeply Nandu? Nandu replies about giving divorce to Tulasi! Lasya says what's there to think when you signed divorce papers? Nandu says my heart is warning I am doing wrong with Tulasi! Lasya says great now you understood you wrong in giving divorce to Tulasi but what about your words you want to live with me further life?
Nandu says yes I want to leave with you but not at the cost of Tulasi or my family, you pressurized me to take decision about you and Tulasi in hurry I took wrong decision and decided to give divorce to Tulasi but it's wrong. Lasya says great now whole mistake is mine right and you have not done anything wrong, you are also like others blaming me for everything and you are not different from others and both starts argues with each other. Nandu again gets attack because of shouting Lasya sees this and says sorry to Nandu and takes care of him. Nandu also says sorry for whatever happened.
Precap : Nandu brings groceries to Anand Nilayam Tulasi denies it from taking them and says I can earn for my self for basic needs you can take them along with you only. Nandu's father says we don't need anything from you and get out from this house now.