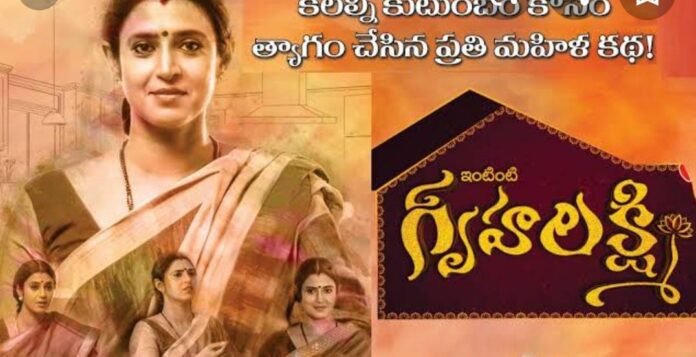 Gruha Laxmi Upcoming Story, Spoilers, Latest Gossip, Future Story, Latest News and Upcoming Twist, on Justhowbiz.net
Episode starts with Bhagyalakshmi asks Deepa to handle Mounitha in different way to keep Mounitha away from Karthik and until then kept your self respect away. Murali Krishna smiles and says after many days your Pinni said good words so think about them because we always wants your happiness.
 Sourya gives cell phone to Bhagyalakshmi. They leaves from Deepa place. Sourya asks what good words Granny told to you? Deepa says she want me to get united with doctor babu. Sourya says Dad went to Mounitha home, maybe it may hurted Hima, won't he ever come to our house. Deepa says don't worry I will make him come here.
Hima waits for her Dad. Soundarya asks her to have food on time and she feeds her. Hima tells to Soundarya to Mounitha aunty is good because she wants to unite my parents so don't scold her when she comes to our house because she feeling bad so promise me. Soundarya sats I won't scold her so believe me. Hima agrees. Soundarya feeds food and thinks Mounitha is trying to act like good person Infront of Hima, it's all because of Karthik.
Varanasi drops Sourya at home. Deepa scolds Sourya for going out without informing her and asks her to be careful from this time onwards. Sourya says she went to her friend home to get the catering order for birthday party and gives the list to her saying they got order. Deepa says you did good work but never went out in this way. Sourya agrees and says that she asked them more money for Catering so they can buy costly frock to Hima. Deepa smiles and agrees.
Mounitha thinks glad finally Hima is believing me, now I will play with Deepa and price her culprit Infront of Hima than Hima will unite me with Karthik and I will start this work from tomorrow itself.
Karthik thinks why Hima changed suddenly? Why she didn't asked me about her parents? Why she is trying to unite me with Deepa? Something happened so I must learn it. Soundarya drinks milk sitting Infront of Karthik and asks him what you told to Hima? Because she is not asking about her parents. Karthik looks on and says he too didnt understand it.
 Soundarya thinks I asked in this way to close your doubts in us. Karthik says I'm feeling good, don't know which god saved me. Soundarya thinks Deepa saved you. Karthik asks what might be the reason. Soundarya says when you left home Hima cried so much and realised your value is more than her parents. Karthik wipes his tears.
 Soundarya says so don't thinks about that matter anymore and be like before. Karthik reminsces Mounitha accusations, you guys are teaching wrong things to Hima because she asked Mounitha to unite me with Vantalakka.
Precap – Mounitha begs Deepa to reunite with Doctor babu for her kids. Deepa slaps her and asks why she is acting so much.