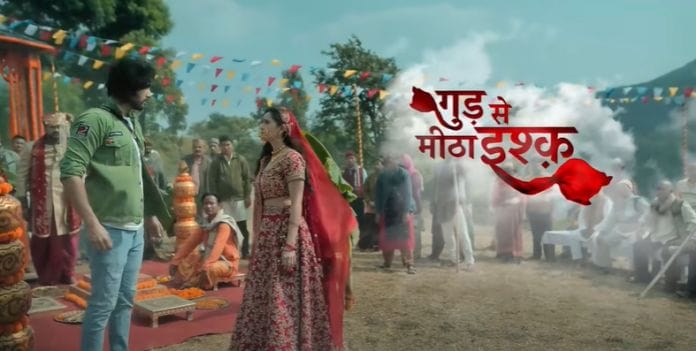 Gud Se Meetha Ishq Upcoming Story, Spoilers, Latest Gossip, Future Story, Latest News and Upcoming Twist, on Justhowbiz.net

In today's episode, Neel enquires about Pari from the doctor. The doctor says that Pari has lost a good amount of blood and her injury is severe but they are trying their best. Nutan cries. Dev and Kajal reach there. Nutan questions them for showing up. Kajal says that she will leave after she see Pari once. Jaidev says that both Kajal and Dev are like black shadows in Pari's life, first they tried to break Pari's marriage and now trying to show fake concern. He asks them to leave immediately.
Madhur says that he will call the police to handover them. Dev says that Pari is not well that's why he is focusing there otherwise he can give him his medicine. He defends Kaju. Neel's mom says that he will take Kaju out but Neel stops her. Neel says that he understands Kajal's concern for her but everyone is in range, he asks her to leave for now as he will give her Pari's update. Madhur calls Kajal shameless. Kajal prays for Pari's recovery. She asks for some miracle from God. A flower falls before her from the idol.
Kajal goes to pick the flower up and gets shocked seeing something. Nutan thanks God as Pari is fine. Pari enquires if they have given Madhur the money. Jaidev says that they will give it. Kajal goes to Pari's cabin.
She thanks God and says that she failed to expose Madhur everytime in past but this time she has solid proof which none can deny. Everyone try to object and not listen to her. Neel asks them to listen to Kajal's side once. Kajal says that Pari is like her own sister and she won't allow anyone to spoil her life. She requests everyone to give her a chance. She asks to bring Diya inside and asks her to tell her truth to everyone.
Madhur tells Pari that Kajal has brought that actress again. Diya says that she is not any actress but Madhur's legal wife. She also says that she lied that day as Madhur gave threats to kill her parents and brother. She felt that her family was safe after she lied about him but she was wrong as Mudhur tried to kill her in car accident. After that she landed in this hospital where she got new life and got to know that she is pregnant and carrying Madhur's baby. Madhur says that Diya is lying and he will call the police. Dev brings police and says that it's Madhur's occupation to cheat young girls and their families in name of marriage.
He brings Mrs. Gupta and says that before marrying Diya and some others Madhur married Mrs. Gupta's daughter too who is missing till date. Police arrests Madhur and his mother. Pari gets up from the bed, shouts on Kajal saying that she doesn't want Pari to get married so she sent Madhur away from her. She runs behind Madhur and breaks into tears.
Nutan feels low and asks forgiveness from Kajal. Kajal asks her not to as Madhur framed them wisely. Nutan says that she is indebted to her. Nutan ties a dhaga on Kajal's wrist as blessings. Neel says that Pari will get discharge soon. Dev asks Khuranas to thank Kajal not him. He requests them to allow Kajal at their home and hearts again.
Precap- Dev tells Pari that according to her getting married is everything so he is promising her that she will get married on the date on which her marriage was fixed. Pari shouts and asks where is Madhur, who will marry her other than him. Dev says that he will marry her.
Today's episode starts with Kajal questioning Neel for blaming her for all the problems in his life. She says that he can't escape by putting blames he has to point her mistakes too. Neel says that Kajal has made lots of mistakes.
He says that her faults are that she applies sindoor, she asks him to marry Pavitra even after applying the sindoor, tries to act Mahan, also they lost to Madhur because of her. Neel and Kajal call each other mad. They start shouting at each other. Dev breaks a glass to stop their arguments. He asks them to shut up and listen to him only.
Khurana family worries about arranging 50 Lack rupees for Madhur. Jaidev says that he can hardly arrange 5 to 10 Lac not more. Pari says that if they can't arrange now Madhur will leave for Singapore which will postpone the marriage and she wants to get married immediately. Nutan asks her not to worry as they will arrange something and give their marriage.
Click to read
Gud Se Meetha Ishq 4th August 2022 Written Update: Pari meets with an accident