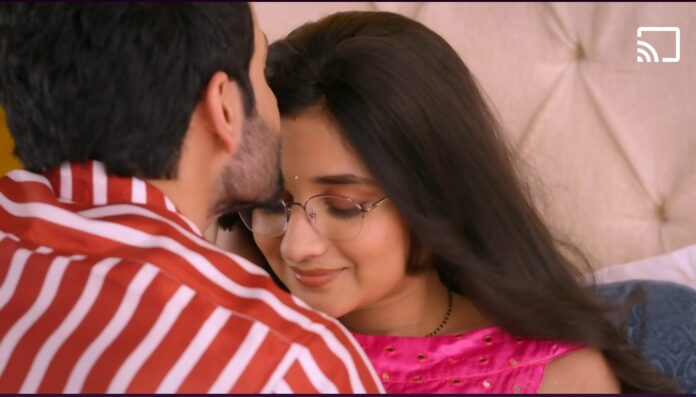 Guddan Tumse Na Ho Payega Upcoming Story, Spoilers, Latest Gossip, Future Story, Latest News and Upcoming Twist, on Justhowbiz.net
Episode begins with the parents of Niya arrived at the house of Pushpa. She is taken aback with their sudden arrival and asks them when did they return from London? They didn't answer anything and directly enquired about their daughter Niya. Pushpa tries to avoid the topic and asked them to come inside and gives her a chance to host them.
 Agastya comes there and informs them that Niya left their house a while ago and by now she should have been in her own home. Her father says but unfortunately she doesn't reach yet and I just wanted to know where is my daughter Niya ? He tries to blackmail Pushpa in front of Agastya.
Agastya gets angry and says how dare you talk to my mother like this?  He says you married another person in spite of having a wife and you didn't even care to divorce her so you better not show me this arrogance. He says I really don't care about all these, I just want my daughter back in home all safe and sound.
He says to Pushpa I really hope she reaches home by tonight and if not then you are aware about what I can do. Not only Indore but I will not leave you eligible to show your face to anybody else in this entire world. Agastya says that both daughter and father are psycho and leaves. Post their exit Guddan says to Pushpa now you have very less time to decide whether you will strike a deal with me or will let Niya's father show you your real place. Pushpa is looking at her with angry eyes while Guddan is smiling because she is successful in trapping her in her own game.
The next morning Sona receives a phone call at their landline number from Niya's father. He again asks about his daughter and says that she didn't come back home the whole night and you people promise that she will be back and she is all ok. Sona behaved in a different way with him and shows him a lot of attitude and asked him to do whatever he can because they didn't fear anybody. Pushpa is shocked to know this and she really doesn't understand what to do anymore
Some police officers arrived at the house of Pushpa and said, there is a FIR against you. Pushpa declines all the accusations against  her and claims that they got no proof to prove their claim right hence they can't take any action against her.  Guddan again reminds her about the deal but at the same time Rashi and the sister of Agastya arrived at the house.
Pushpa thought of a plan and things that I will trap guddan in her own game. Choti guddan prepares pancakes for Rashi when she notices that Pushpa is about to make Rashi fall from the stairs. She saves Rashi at the end moment. Pushpa says to Guddan I have so many weaknesses of yourself to use for my benefit so think before doing anything. Choti thinks she can't expect Pushpa to fall short in front of her only using Niya and she has to look for another way.
Guddan gets a gift from Rashi and thinks to use it to trace the location of her mother. However, when she tries to go out of the house, Agastya stoped her and they share a romantic moment with each other. She gets worried as she has to follow Pushpa and finds out about her mother.