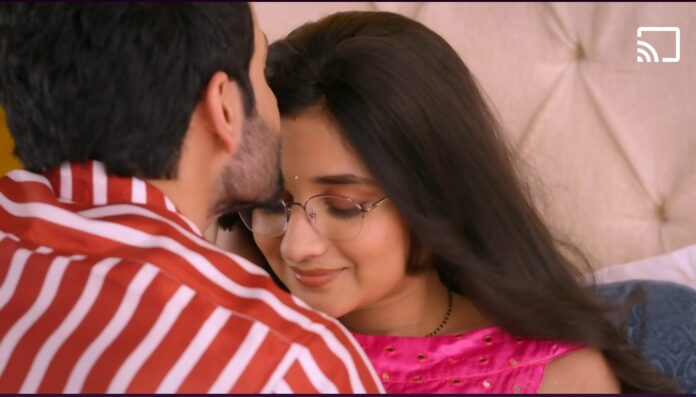 Guddan Tumse Na Ho Payega Upcoming Story, Spoilers, Latest Gossip, Future Story, Latest News and Upcoming Twist, on Justhowbiz.net
Episode begins with Guddan sitting with Agastya and he goes to wash his hands and she locks him inside the bathroom and comes there from the house. She gets the location of her mother and comes there with her car. She thinks she will find out about her mother soon and enters the godown. She comes inside the place and notices someone is sitting there, She comes there and sees Agastya is sitting there already.
He gets angry at her for lying to her and she says to him how are you here? He says you locked me inside the bathroom and still wondering how I am here? He says you are also in the marriage with me hence it is not my only responsibility to keep up the transparency of the marriage. He says for these kinds of activities only I sometimes fear what you will do with our unborn baby! I sometimes fear that what if our baby will become like this or not?
Guddan says what are you trying to say that I don't care for my unborn baby? Agastya asks for sorry and says I really don't want to mean it in that way and says please forgive me this just comes out of my mouth like that. She thinks in her mind that I am just upset with myself that I have to speak only lies to you and can't even take your help at all.
She hugs Agastya out of affection and Agastya gets relief to think that she is safe with him. Pushpa and senior Guddan had a conversation with each other and said that like you even your daughter is an idiot and she will remain one for the entire life. Pushpa says to Guddan that Indore forgot you long ago and now they take only my name with full respect and honour. Your daughter thinks of himself as a smart person but she will never be able to defeat me and reach out to you.
Guddan says she can and she will do things beyond her limits. She can be minor but her name is Guddan and she is capable of doing things on her own. Guddan says to Pushpa my mother-in-law was so good that I used to think that people badmouth about them for no reason but you made me realise that there are still people like you who loves to torture daughters of others and exploits them. You are the wrong one here and soon or later Agastya will come to know about it but Pushpa gets angry and says Agastya will never get to know about it at all.
Later Guddan thinks that she needs to release Niya after listening to the conversation of Pushpa and Niya's mother. She decides to release her and goes to the godown where she is kept inside. She releases Niya and says I am freeing you because your parents doesn't deserve the torture they are facing like my mother doesn't deserve what she is facing. As soon as she releases Niya she grabs Guddan and tries to bind her with the chair but her leg slips on a roller and she collides with a rack and her head gets hurt and it starts to bleed.
Guddan gets out of the place to ask for help but when she comes back she sees that the building was set on fire and she thinks Niya is dead inside as she can't rescue her. She comes back home and feels sad that no plan of hers became successful but Niya faced such a brutal accident. She feels sad for the entire fiasco and sits in the hall area of the house.