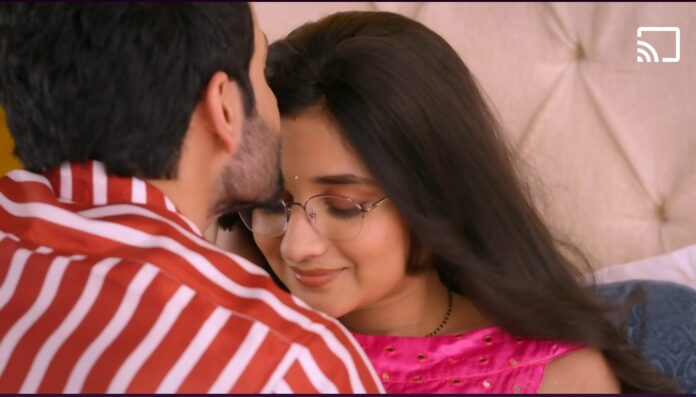 Guddan Tumse Na Ho Payega Upcoming Story, Spoilers, Latest Gossip, Future Story, Latest News and Upcoming Twist, on Justhowbiz.net

Episode begins with Agastya trying to contact Guddan but her phone is continuously saying it's not reachable. Guddan comes inside the room and Agastya immediately asks her where was she all this while ? He also asks her why she again and again goes vanish without informing him anything about her? Guddan is not able to answer anything as she is from fumbling and crying.
Agastya gets worried to see her state and asks her what happened? She hugs him out of grief and after a while with much difficulty she is able to explain what all happened with Niya and how she is unwantedly involved in this matter. They were conversing in their room when they heard the voice of a police officer asking for his wife Guddan. Agastya holds the hand of his wife and comes down in the hall and he says to the police officers that people cannot take away my wife because she has not done anything wrong and it was me who murdered Niya.
Guddan is shocked to see that Agastya is taking charge of the murder on himself to save her from the torture. She tries to protest against it and speak up but Agastya doesn't let her say anything. Pushpa also said that my son was with me when Niya was murdered then how can you say that he is the culprit? The officer says if not Agastya then your daughter in the Guddan is responsible for sure.
Agastya says to them, I am confessing my crime myself and moreover I have an agenda behind this. I want a divorce from her but she denied to give it to me hence I have to opt for this option to get rid of her. Finally the police officers decided to take away Agastya with them. Agastya takes Guddan in a corner and says to her that I know no you have done nothing and I also know everything will be fine but as of now I cannot let you go away from this house in this state. Guddan breaks down crying while Pushpa tries to stop them and the cops take away Agastya.
Pushpa comes to meet senior Guddan and asks someone's name to appear in front. Choti comes to meet Agastya in the jail and she says to him that my entire existence is attached to you and I cannot see you in this state. Agastya asks her to stay strong and not to make it difficult for him. While on the other side, it was revealed that Niya is very much alive and it was their plan to trap Choti Guddan and send her to jail.
Pushpa informs Niya that nothing went as per their plan. It was Agastya who's in jail in place of Guddan. She asks Niya to come with her to the police station. She says when there was no murder that happened then why he will get punishment for it? Niya declines to come with her and says Agastya deserves all this for being blind in love. Senior Guddan laughs at the state of Pushpa and says if you still want things to become easy then make a team with my daughter and rest she will handle afterall, the matter is about her husband for whom she can go to any extent.