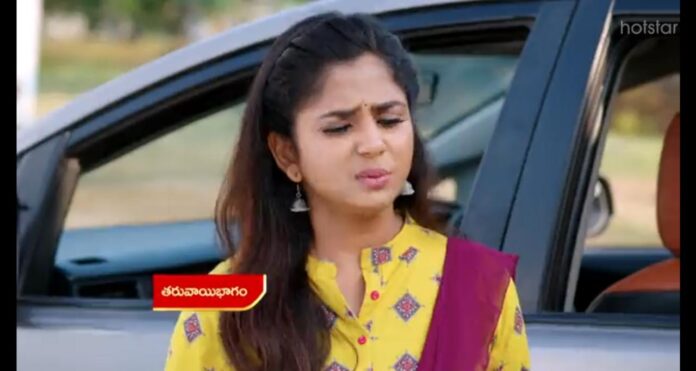 Guppedantha Manasu Spoilers, Upcoming Story, Latest Gossip , Future Story, Latest News and Upcoming Twist on justshowbiz.net
Star Maa's hit popular show Guppedantha Manasu is all set to engage it's audience with it's twists and turns. The show's main leads Vasudhara and Rishi are loved for their chemistry. Rishi is an arrogant Professor while Vasudhara is an intelligent and strong headed girl.
As Reported Earlier we saw Rishi coming to meet Vasudhara. Vasudhara hears the horn and rushes to him with Red Roses in her hand. She offers him them and he asks her about her new style of welcoming him. Jagathi sees them and asks Vasudhara to call Rishi into the house as it is not appropriate to not welcome the guest into the house. Vasudhara asks him to come and he agrees. Devayani stops the car infront of Vasudhara and Jagathi and questions Vasudhara. She asks her where did they go last night and why were they late. Rishi lashes out at Vasudhara and Jagathi for troubling Devayani making her plan succesful.
In the Upcoming episodes We will get to see Vasudhara seeing a man laying on the road injured and stopping a car passing by. Rishi thinks that Vasudhara didn't even call him to apologise for misbehaving with Devayani. A man gets down from the car and Vasudhara asks him to help her in taking the man to the hospital. They both take him to the hospital. Vasudhara tells him that the man is not someone she knows when he asks her. He praises her. Rishi thinks that he won't wait for her call but will call her himself and take a class of hers. He calls her. The man introduces himself to Vasudhara and forwards his hand for a shake but she joins her hands infront of him. He thinks that she should atleast tell her name. Rishi thinks she is Proud when she doesn't lift the call.
When will Rishi and Vasudhara realise this Love for each other? Will Vasudhara be able to bring Rishi and Jagathi closer?
Keep checking out this space for the latest news of your favourite Telugu shows.