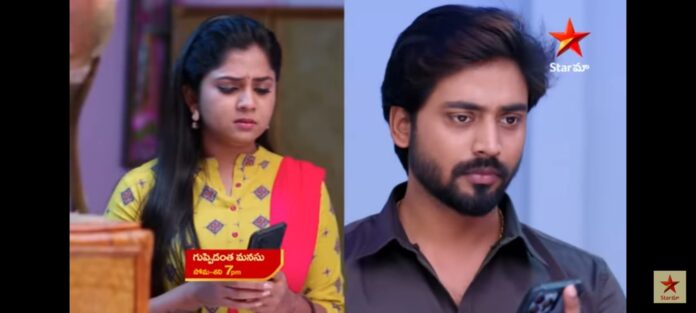 Guppendantha Manasu Spoilers, Upcoming Story, Latest Gossip , Future Story, Latest News and Upcoming Twist on justshowbiz.net

Maa TV popular show Guppedantha Manasu serial is witnessing some major turning points.
As reported earlier, Rishi gets upset thinking about why Vasudhara is behaving like she didn't hurt him. Mahindra says to Jagathi 'it might be good if they know why Chakrapani came here'. Jagathi says there is nothing to talk to him and if Devayani sees him then a big issue will happen that's why we sent him as he already told us what he wants to say so there is nothing to talk to him.
Devayani comes there and blames them for Rishi's pain and for leaving the house. Jagathi asks her to stop accusing them. Devayani says you guys always think about yourself and you're not thinking to bring back Rishi home. Mahindra says Rishi gets hurt at home recalling his memories.
Devayani says memories are inside him and they won't leave wherever he stays and I will bring him back home. She calls Rishi but he doesn't answer the call. Devayani goes to meet Rishi. Jagathi and Mahindra decide to leave to stop Devayani from disturbing Rishi's mind.

In the upcoming episode, viewers are going to witness Devayani comes to Vasudhara's place. Devayani introduces herself to Chakrapani saying she is Rishi's aunt and gives a blank cheque to Vasudhara and asks Vasudhara to leave Rishi forever.
Chakrapani tries to explain to Devayani but Vasudhara stops him and asks him to go inside. Chakrapani agrees and goes inside. Vasudhara asks Devayani to leave politely. Vasudhara calls Mahindra. Rishi sees Vasudhara calling Mahindra and takes the phone from Mahindra.
Vasudhara says to Rishi thinking it is Mahindra that Devayani came here and is creating trouble. Vasudhara asks Mahindra to come quickly and cuts the call. Rishi says to Mahindra that Devayani went to Vasudhara and he goes to Vasudhara.

Will Vasudhara be able to expose Rajiv? Will Vasudhara forgive Rishi?
All these questions will be answered in the upcoming episodes.
To know what will happen next in your favorite show, keep checking this space for new and exclusive updates.