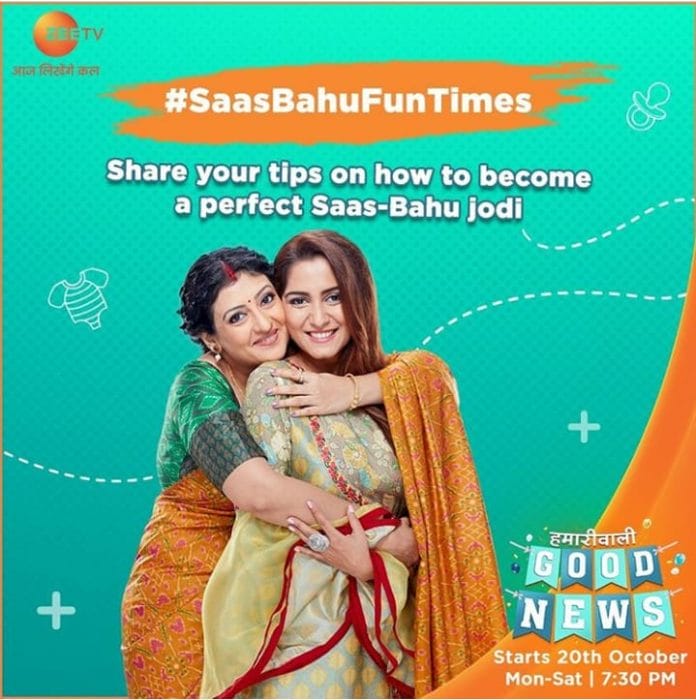 Hamariwali Good News Upcoming Story, Spoilers, Latest Gossip, Future Story, Latest News and Upcoming Twist, on Justhowbiz.net
Episode starts with Renhka waking Navya for Sargi. Navya says why didn't you put full mehendi design. Renyka says I have never done that, you children do it. Navya shows her Mehendi and Renuka notices Adi's name. They first pray to god then take blessing from Sumitra's photograph. Navya asks Renuka where is her Sargi.
Renuka says Sumitra was busy so she didn't send. Navya says then eat from this. Renuka denies. Navya says if you won't eat then even I won't. Renuka and Navya eat the Sargi together. Renuka gives Navya a red salwar suit and says wear this today. Navya says I will only if you wear a red Saree too. Renuka says but. Navya says no excuses. Navya goes.
Navya is getting ready, Adi comes and gives her chocolate. Navya says today is karwachauth. Adi says don't forget today it is almost one month from that day. Navya says oh yes, I so hope our baby is here. Navya and Adi touches Navya's belly.  Navya says I am already feeling ticklish in my stomach. Adi says wow.
Navya says I have brought a home test kit too. Adi says so don't keep fast today. Navya says no it's necessary. Adi says you keep the fast for me and I am only saying you not to keep. Navya says okay and eat. Navya says but now I will have to lie to Renuka. Adi says we will tell her once we get the good news confirmed.  Adi treats Navya really well. They spend time together.
Here, Mukund has come to meet Sumitra. Mukund learns that Sumitra has kept a fast till the time Navya becomes pregnant as it is already one month. Mukund says don't do this. Sumitra goes from there. Mukund thinks it's all because of Renuka. There, Renuka is waiting for Mukund to come and break her fast, Mukund comes and says it's all your fault. Mukund says I will not let you break your fast and neither will I eat anything as Sumitra has kept fast till Navya really gets pregnant. Mukund goes angrily.
Next day, Navya is ready to check the test. She calls Adi out of washroom. Adi says oh I forgot the test, I have reached to the final round of interview with that international bank, but I will ask them to postpone. Navya says no don't, we will do it in evening as then we will have two good news, one is of your job another of our baby. They both get ready to leave for work. Downstairs Kusum has brought a pandit ji who can predict dates of when baby will arrive.
Kusum and Renuka ask the Pandit ji and he says baby will soon come to this house and will fill it with happiness. Renuka says thank god. Renuka sees Adi and Navya coming. She pretends as if a normal visit is being done by pandit ji. Adi and Navya take his blessing and leave.
Preeti comes with her kids and yash goes out to play. Preeti asks Renuka if the thing what pandit ji said is right. Renuka says I hope it is. Preeti says Navya and Adi should understand that you are the one suffering in middle. Preeti asks Renuka to have tea. Renuka says I can't as Sumitra has kept a fast till Navya is pregnant because of that your dad and me are also not eating anything.
Preeti says you will fall ill. Renuka says it's better of I die only because your father is as it is killing me. Preeti says I am going to meet Madhu and give her a gift for her baby.
Here Mukund gets to know Renuka has ordered khoya to make sweets. Mukund gets angry and shouts at Renuka how is she celebrating that Sumitra is not coming. Renuka says I am making the sweets because jiji says during festivals our family should make these.
 Mukund says one month is almost complete, if Navya is not pregnant then you will be going to jail as you wrote it in the stamp paper. Renuka says I will go myself only, don't worry jail will be better than here. Renuka says give I will throw this khoya. Mukund says it comes from money don't throw it away have some respect for it.
Mukund leaves. Renuka is angry. The phone rings and she goes to pick the call is from gynaecologist for Navya's appointment. Renuka gets happy listening to that. She calls Navya to tell her but Navya's phone is at home only. Renuka thinks of all the signs of vomiting and weakness Navya had and becomes happy for the good news.
Navya is back in her scooty. She is about to go home but sees Yash fighting, she goes to solve it but Yash falls back and Navya is imbalanced and falls and hits her head on her scooty. Yash screams and calls Preeti. Preeti comes out and takes Navya to hospital. Preeti thinks she shouldn't inform Renuka as she is already feeling weak due to fasting.
Here Adi gets the job and is about to leave, he gets a message from Preeti saying Navya is in hospital. Adi thinks it's for the pregnancy test and thinks Navya is so excited. Doctor tell Preeti that they have done the dressing, vomiting and weakness might be felt initially.
Here, Renuka has come to Sumitra with Malpua. Sumitra says you are making me a fool, yesterday there was no such news and today you are saying Navya is pregnant. Renuka says I am telling the truth. Sumitra doesn't listen and goes. Renuka asks Sumitra's bahu to convince Sumitra, she says she can't.
Episode ends.