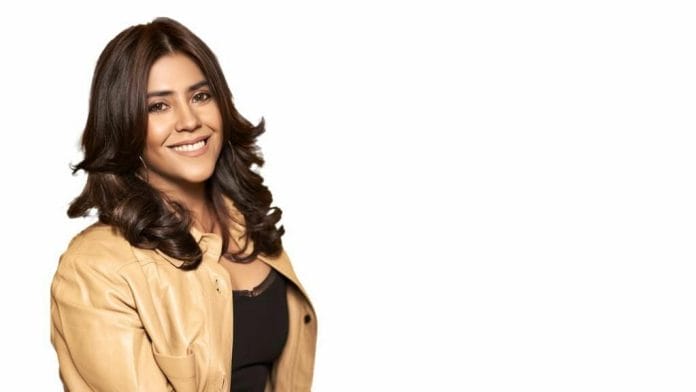 In the realm of Indian television and film industry, few names carry as much weight as Ektaa R Kapoor. Known as the "Content Czarina," Kapoor has been instrumental in revolutionizing the landscape of Indian entertainment. Beyond her expertise as a producer and creative mind, Kapoor has also been lauded for her innate ability to identify and launch promising new talent. With an eye for untapped potential and an unwavering commitment to storytelling, she has played a crucial role in shaping the careers of several actors who have gone on to achieve remarkable success.
Vidya Balan: Known for her ability to identify and nurture talent, Kapoor played a significant role in launching Vidya Balan's career with the show 'Hum Paanch' that gained immense popularity and showcased Balan's true potential as a star. While Vidya has always been a formidable actress, One of the defining moments in Vidya Balan's career came with her portrayal of the iconic character Silk Smitha in the film "The Dirty Picture" produced by Ektaa Kapoor. No one could have imagined the powerhouse performer in this role, but leave it to Ektaa Kapoor to make the impossible happen!
Sushant Singh Rajput: One of the most notable actors launched by Ektaa Kapoor is the late Sushant Singh Rajput. Kapoor's long-running television serial, "Pavitra Rishta," served as Rajput's launchpad. Portraying the character of Manav, Rajput won the hearts of millions of viewers and received critical acclaim for his exceptional talent. His outstanding performance on the show catapulted him into the world of cinema, where he went on to deliver stellar performances in movies like "Kai Po Che!," "MS Dhoni: The Untold Story," and "Chhichhore." Rajput's journey from television to films stands as a testament to Kapoor's ability to spot raw talent and provide them with the right platform.
Rajeev Khandelwal: Rajeev Khandelwal is another actor who owes his breakthrough to Ektaa Kapoor. Khandelwal shot to fame with his portrayal of Sujal Garewal in the television drama series, "Kahiin Toh Hoga." Khandelwal's portrayal of Sujal Garewal garnered immense popularity and established him as a versatile actor. Since then, he has worked in various films and television shows, earning critical acclaim for his roles in projects like "Aamir" and "Table No. 21."
Smriti Irani: One of the most notable success stories associated with Ektaa Kapoor's guidance is that of Smriti Irani. Under Kapoor's production house, Balaji Telefilms, Irani was cast as the iconic character of Tulsi Virani in the immensely popular soap opera "Kyunki Saas Bhi Kabhi Bahu Thi." Irani's portrayal of Tulsi captivated audiences across the nation, making her a household name and propelling her career to new heights. Following her stint on the show, Irani ventured into politics, where she has achieved significant success, currently serving as a Minister in the Indian government.
Mouni Roy: Mouni Roy's journey from being a relatively unknown face to a prominent actress in the Indian entertainment industry can be attributed in large part to Ektaa Kapoor's faith in her talent. Mouni Roy's journey in the entertainment industry began with her breakthrough role as Krishna Tulsi in the iconic soap opera "Kyunki Saas Bhi Kabhi Bahu Thi" but her biggest breakthrough happened with her collaboration with Ektaa Kapoor on the supernatural drama series "Naagin" which made her a household name.
Ronit Roy: Ronit Roy's association with Ektaa Kapoor began with the iconic television serial "Kasautii Zindagii Kay." In this romantic drama, Ronit Roy portrayed the character of Mr. Bajaj, an enigmatic and influential business tycoon. The show became a defining moment in his career and laid the foundation for his future success including the award winning 'Udaan'. Following the success of "Kasautii Zindagii Kay," Ronit Roy continued to collaborate with Ekta Kapoor on several projects including "Kasam Se" and "Kyunki Saas Bhi Kabhi Bahu Thi, "Kehne Ko Humsafar Hain" and "The Test Case."
Karan Kundrra: Karan Kundra's journey began with his participation in the reality show "Kitni Mohabbat Hai," produced by Ektaa Kapoor's Balaji Telefilms. Karan's charismatic personality, good looks, and acting skills caught the attention of Ektaa Kapoor, who recognized his potential as an actor. He further collaborated with Ektaa Kapoor on shows like "Gumrah: End of Innocence" and "Yeh Kahan Aa Gaye Hum," where he showcased his versatility and ability to portray complex characters. And has also been a part of the web series ' Dil Hi Toh Hai' produced by Ektaa Kapoor's digital platform, ALTBalaji.
Prachi Desai: Another remarkable talent nurtured by Ektaa Kapoor is Prachi Desai. Kapoor launched Desai in the highly successful television drama series, "Kasamh Se." Desai's portrayal of the lead character, Bani, captivated audiences and established her as a versatile actress. Following her television success, Desai seamlessly transitioned into Bollywood, making her debut opposite Farhan Akhtar in "Rock On!!" Her performance garnered critical acclaim, and she went on to deliver notable performances in movies like "Once Upon a Time in Mumbaai" and "Bol Bachchan." Kapoor's guidance and support played a pivotal role in shaping Desai's career.