Show Kahaan Hum Kahaan Tum is turning into over dramatic soap.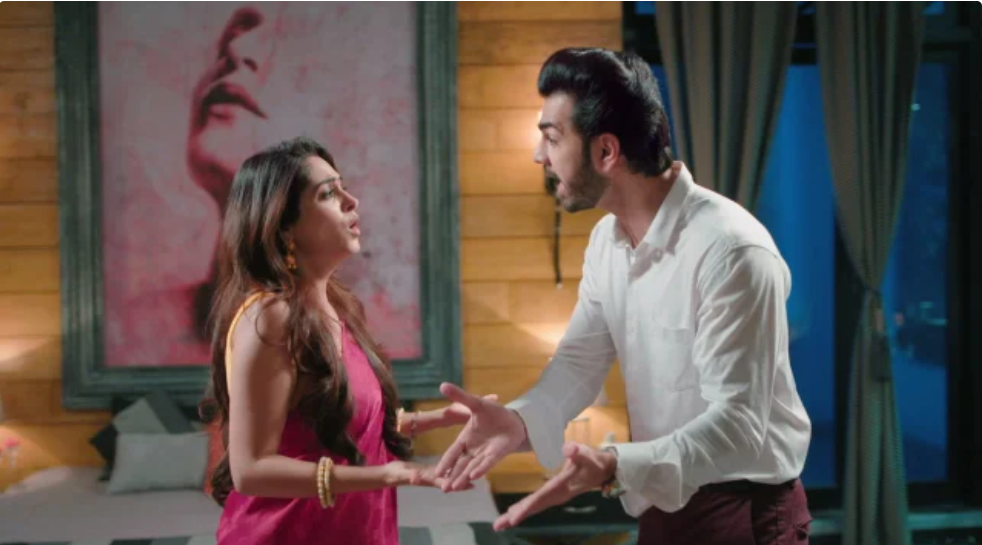 Shows uniqueness was its modern take on any situation and less dragging of the tracks but now it seems Kahaan Hum Kahaan Tum is just serving old wine in new bottle. And off-course one who is following the show from the beginning won't deny this fact.
Expectation from Kahaan Hum Kahaan Tum was so high thinking it has the potential to serve the story that has a gripping story-line. Sadly, show proved fans wrong and is serving the typical conspiracy. Though, for drama showing planning and plotting is no harm but this wasn't the storytelling of Kahaan Hum Kahaan Tum, as earlier promos promised to showcase the story of Rohit and Sonakshi.  But the sudden change in the story-line of Kahaan Hum Kahaan Tum is irking the viewers.
One truth is out and Rohit's character took foul turn. After Suman revealed to Veena about Naren's affair and Pooja being his daughter. Veena breaks all her ties with Naren and Rohit too.
Veena's ignorance made Rohit rude towards Sonakshi as now he thinks Sonakshi has a huge hand behind destroying his family. He accuses Sonakshi for all the mess and not only this; makers have ruined Rohit's character by showing him humiliating Sonakshi and berating her to the extreme level. In the past Rohit used to think maturely and act smartly.
While, Sonakshi is equally wrong by not telling the truth to Rohit. She could have told the entire truth; right from how Ajit blackmailed her for the money. And her talk with the inspector where he told her that someone tried to kill Naren. But don't know why Sonakshi even after facing Rohit's wrath in spite of being less guilty is not opening her mouth and telling the truth.
Well, whatever maybe the reason but currently Rohit's act can't be justified at any cost. He can't be this harsh on Sonakshi, as his character wasn't shaped like this earlier. Post marriage this new Rohit is everyone's out of reach. He is leaving no chance is humiliating Sonakshi and also he has promised to turn Sonakshi's life hell. What more Rohit is going to do will be less interesting to watch because such similar tracks are already shown in many shows. Male lead behaves rudely with the female lead and one day all sudden real truth comes out and apologies from all the corners happens.
Kahaan Hum Kahaan Tum could have made the difference by showing Rohit in spite of everything standing with Sonakshi and trying to figure out the root of all the mess. But in the end it is the daily soap and for longevity of the show dragging of the tracks is mandatory.
Shoot your views on the current track of Kahaan Hum Kahaan Tum in the comment section below and tell us who amid Rohit and Sonakshi is wrong according to you?
Stay tuned with us for more news, spoilers and latest updates.