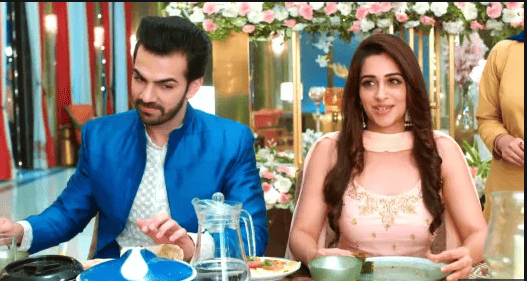 Kahaan Hum Kahaan Tum is currently one of the most watched shows on television. In the short span show has fetched the light because of its unique storyline. As the show is heading towards the Ronakshi wedding, drama in the show is high.
If you closely follow the show you must be well aware of the current drama. After Raima feels ignored, Sulochana manipulates her and she decides to win back Rohit. Raima goes to Rohit and tries to seduce him. She went closer to Rohit, Rohit feels disgusted and lashes out Raima for her act. He clarified her that he belongs only to Sonakshi and will love her only till his last breath. This doesn't go well with Raima and she further decided to go any extreme to marry Rohit.  
The latest reports reads Raima will kidnap Sonakshi and will sit beside Rohit to marry him. Now soon after that fan's showed their disappointment in their comments and concluded that none can come between Rohit and Sonakshi. But they were again upset when actress Farnaz Shetty who plays the character of Raima in the series posted a comment on her social media handle that reads " I will marry Rohit 😈"
Actress, Farnaz Shetty posted her upcoming look from Kahaan Hum Kahaan Tum and captioned it " How about some wine and cheeze 😉😛
.
.
.
.
#wine #outfit #wedding #raima #khkt "
Under her post one fan quoted " U r very gorgious ,😍😍😍 but please dont be with Rohit, let his n sona s shaadi become … PLEASE "
To which Farnaz replied  " I will marry Rohit 😈" Check out the post below!
https://www.instagram.com/p/B4fJ6PCBV5h/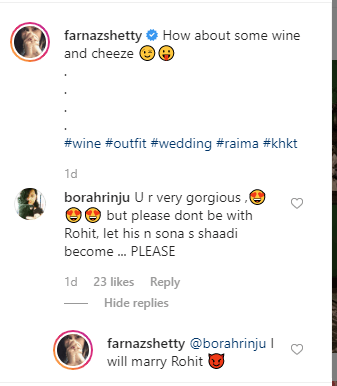 Well, her comment left the suspense in the fan's mind and they are curious to know marry Rohit?
We would like to hear from you, whom you think who will marry Rohit- Raima or Sonakshi? Shoot your answers in the comment section below.
Stay tuned with us for more news, spoilers and latest updates.