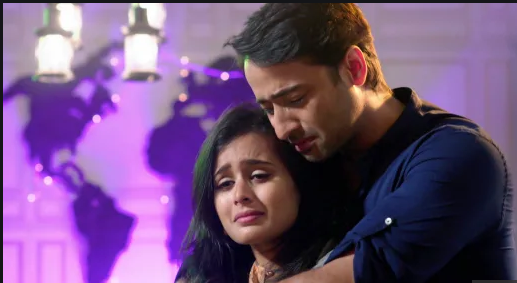 Rajan Shahi produced spin-off show Yeh Rishtey Hain Pyaar Ke never failed to top the TRP chart since its premiere. Show holds a gripping story-line that revolves around to break the old stereotypes on marriage thoughts. But apart from the show plot, fans got attracted towards the Jodi of Shaheer Sheikh and Rhea Sharma. As Abir and Mishti; the duos first time pairing in Yeh Rishtey Hain Pyaar Ke created the magic on the screen and fans can't resist themselves from drooling over the couple .
Shaheer and Rhea's 'natural' touch without any sort of over acting makes the duo best ITV couple. And as MISHBIR the actors have already bagged the title of Best On-Screen Jodi in the 2019 Gold Awards. In the recent episodes Shaheer and Rhea made our heart to skip the beat with their flawless performance. Within two episodes the way duos flaunted their two shades; MISHBIR deserves to win more praises and awards.
Scene goes like this; Abir comes to meet Mishti and confesses his love to her. Mishti after hearing the love confession says to Abir that he is quiet late. She asks Abir how she will break the heart of her best friend Nannu, how she will hurt Vishambhar. Tearful, Abir kneels down and holds himself responsible for all the mess. But the way MISBHIR hold each other by their face; the moment was not less than a treat to watch.
The hug and kiss moments between the duos was cherry on top as after ages it felt Mishti and Abir is back together. Shaheer and Rhea nailed in this romantic cum emotional scene and we just can't resist ourselves from drooling over this scene from yesterday episode.
Sheikh is already slaying in the emotional scenes and Rhea is well complementing him without any denial! The duos in the same frame making us think why they are oh..so perfect!
Well, this is not going to stop here as in the tonight episode MISHBIR will amaze you once again.
Last night it is seen, Nishant and Meenakshi plots against Mishti and Abir to separate the duos. Thus, when Nannu will pretend consuming alcohol; Mishti will decide to break her ties with Abir for her family sake. She will ask Jasleen to permit her once to talk with Abir for the last time.
Mishti will go to Abir and restless Abir will ask her why she is giving up. He will ask her to elope with him but Mishti will decide to part her ways with him for her family sake. Heartbroken, tearful Abir will permit Mishti to step back. The last good-bye of MISHBIR will bring tears in your eyes. The screen will stop for a moment and you just can't stop yourself from watching this scene on loop.
Rhea Sharma and Shaheer Sheikh's creativity in the scenes is setting some major acting goals and apart from the duos none can perform MISHBIR so flawlessly.
What made you to fall for Mishbir, shoot your views in the comment section below!
Stay tuned with us for more news, spoilers and latest updates.