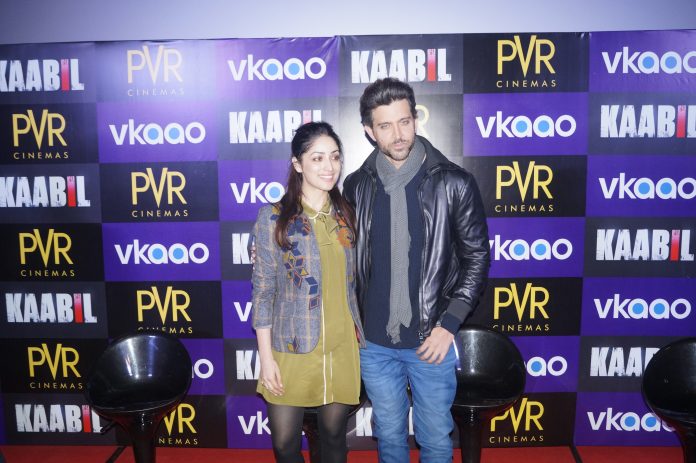 The handsome hunk, Hrithik Roshan and beautiful Yami Gautam visited Delhi for the last leg of promotions of their upcoming film 'Kaabil'. Produced by Rakesh Roshan, the film is directed by Sanjay Gupta. The film also stars brothers Rohit and Ronit Roy in the movie.
[slideshow_deploy id='54406′]
Being first of its kind in the Bollywood movie where the love affair emerges between two blind people, Kaabil is considered as a different love story as what we have seen till today.
In a press conference held in Noida, Hrithik said"Blind people are contributing to the society and they are living their lives just as a normal person does. We are so unaware about the society of the blinds. I think we are the blinds to the blind world. They are making an impact on the society. There are blind photographers, blind cricketers, blind CEO's of the company, lawyers, singers, guitarist, they are everywhere and are doing better than us."
Praising her co-actor, Yami said "Hrithik is such an amazing person and an actor that I would look to work with him all over again and again"
"We have seen each other more after the movie as compared to the time while we were shooting. We were not supposed to look at each other and didn't know how the person has reacted and performed" added Hrithik.
 "When my dad told me that we have to shoot a song Initially I thought that it would a slow song but then he showed me video of blind people dancing and I was amazed to see that."
"I met so many blind people. There were a group of Blinds who travelled by train, took and auto and found my house all by themselves. We had lunch together; they took selfies and enjoyed every moment. They did all that without any help. They had just mobile phones in their hands with a talk back system. They are so independent and are so happy. They are the source of inspiration to us who are actually blind to our own potential." said Hrithik.
The film is releasing on January 25th.