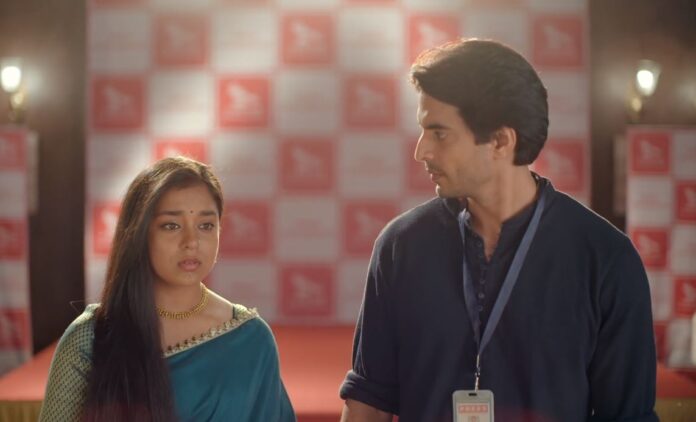 Imlie Upcoming Story, Spoilers, Latest Gossip , Future Story, Latest News and Upcoming Twist on justshowbiz.net
Star Plus newly launched show Imlie garnered a huge amount of audience from the date of its launch. The gripping storyline filled with twists and plots makes it engaging to audience. Earlier it's seen that Aditya wanted to interview himself while Malini got upset over their cancelled date for the interview. Now it will be seen that Aditya will encourage Imlie for the competition while Imlie's vermilion will get exposed in front of the media.
Previously we have seen that, Imlie informed Prakash about taking seat in Malini's college. She promised Satyakam that she would prove him a protester and not a culprit once she became an officer. Imlie hid her vermilion in her hair as it was gifted by Aditya. Malini proposed for a date with Aditya and Aditya agreed recalling Imlie's words. Aditya found that Imlie's interview would be done by another reporter and demanded to do the interview. His boss gave in to his demands when he threatened to quit. Aditya convinced Malini to postpone their date for Imlie's interview. Malini understood him and congratulated Imlie with a saree.
In the future episodes we will see, Malini will gift her date saree to Imlie and Imlie will get ready for her interview. Tripathis will conduct a mock interview for her. Imlie will be nervous about the interview as her one mistake will give a bad image about whole Pagdandiya. Aditya will encourage her and Imlie will leave for the interview. Tripathis and Dev will watch the interview while Aditya will inform Meethi about the interview. He will encourage her to accept Satyakam in her life. Imlie will give her bold answers during the interview. Later Imlie's vermilion gets exposed while giving interview and Imlie will confess that she's married in front of media.
Will Malini realize Aditya's betrayal? Will Tripathis accept Imlie and Aditya?
All these questions will be answered in the upcoming episodes.
To know what will happen next in your favourite show Imlie, stay tuned to this space.