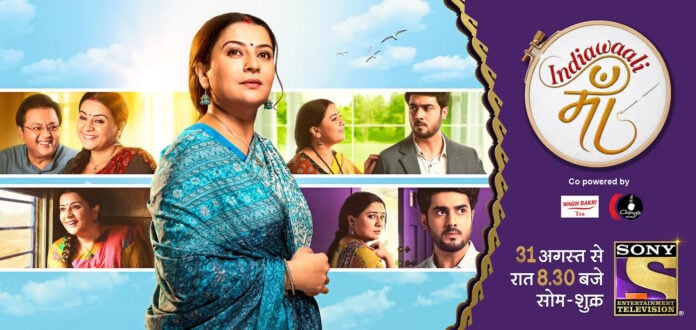 India Waali Maa Upcoming Story, Spoilers, Latest Gossip, Future Story, Latest News and Upcoming Twist, on Justhowbiz.net
Hassu asks Kaku to take care of herself, she asks him if she raised Rohan well, if she was good mother, Hassu says she is the best mother in whole world, she becomes his mother too sometimes. Kaku says Rohan life is not getting sorted, its getting messed up day by day, she doesn't know how to make him understand. Hassu motivates her, she will make everything fine.
Kaku wakes up early morning, she cooks food and packs her lunch box, she puts food on dining table for Rohan to eat. She goes to office, Balwinder gives her ID card, receptionist congratulates her, Kaku says thank you very much. Balwinder takes her finger print for access, attendance.
Akshay comes to Chinu's cabin, she asks him not to talk about yesterday, she is tensed that presentation is not ready, clients will come soon. Kaku comes there with a box, she says she made present. Keerti says let's go to the meeting room, she doesn't allow Chinu to see the box as clients already came. Kaku shows the box to clients, Chinu covers it up as its sample of return gift for guests. Clients are impressed.
Akshay says Chinnamma worked a lot for the gift, so they will show presentation tomorrow, Chinu asks if they will have chai, they showed lot of patience. Fawad signals office boy tea isn't good, Chinu takes tea brought by Kaku and serves it for clients saying its world's best chai. Clients also praise the taste, they say gift and tea are more than enough for today, they will come tomorrow for presentation.
Chinu scolds Kaku, she explained a lot about presentation and sent Fawad for help but she didn't do it. Kaku says she left early because of Rohan emergency but she worked whole night to make present, Chinu says this is corporate world, she can't take advantage telling personal problems. She asks Kaku to leave. Keerti sees Kaku leaving and talks in fake pity tone, she asks Kaku to bring her coffee from pantry before going out. Balwinder hears it and says he will tell office boy to bring coffee, its his work. He asks Kaku if everything is fine, but Kaku leaves sadly.
Rohan asks Kaku she came early, Kaku says she is removed from job, Rohan makes her sit and tells her not to worry, she tried this much, corporate world is not for her. Kaku tells him not to trouble others, he can't imagine what's her situation yesterday, when she saw him unconscious, she didn't know if he will survive or not, he was not in state to save his life. He feels guilty and throws alcohol in dustbin. Kaku calls Chinu, she cuts the call twice and answers it third time. Kaku says sorry.