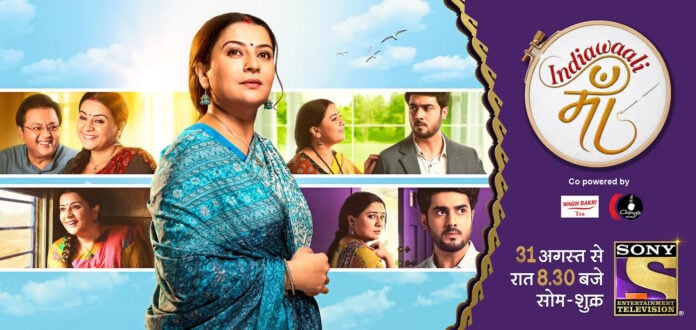 India Waali Maa Upcoming Story, Spoilers, Latest Gossip, Future Story, Latest News and Upcoming Twist, on Justhowbiz.net
Hassu gives green tea to Chinu, but she doesn't drink in hurry to go to office, she tells him to make something good for the dinner and leaves. Hassu tastes green tea and feels its so bitter. Kaku comes to help him with cooking, she says she has to go back soon as Rohan has work. She asks Hassu if he slept well, he nods and says after talking to Chinu, he felt all these efforts are worth to bring such a good girl back to Rohan's life. Hassu says Chinu told some company snatched their project, client, he advised her to always look ahead in business. Kaku says she advised Rohan the same.
Rohan and Chinu fight infront of client. Rohan calls Kaku to come there, Chinu calls Hassu to come there, she will send address. Hassu and Kaku reach the place and see each other. They understand Rohan took Chinu's project. Chinu calls Hassu, Kaku tells him to not answer the call. They both argue, Hassu supports Chinu, Kaku supports Rohan. Kaku says Rohan is gone on his father in terms of stubbornness. She says Chinu is not any less, she is more stubborn than Rohan.
Hassu says Chinu is alone, away from home. Rohan calls Kaku, she says she is on the way. Chinu calls Hassu asking how much time it will take for him to reach. He says he almost reached. Kaku says she will go and see first, she sees Rohan, Chinu bickering and locks the door. Client sees her and says Rohan, Chinu are fighting like kids, he is thinking not to give project to any of both, problem will be solved.
Kaku says she and Chinu's assistant came to sort out the matter. She calls Hassu and tells client that Rohan, Chinu left the matter on them, they three can sit and decide what to do. Client says this project was first given to Akshay Gowda company. Kaku asks if its maternity fashion wear project. Client nods and asks if she doesn't know, her designs got approval.
Rohan tries to open the door and realizes room is locked. He and Chinu try to make phone calls but there's no signal. Chinu tries different ways to open door, Rohan laughs seeing her attempts. She asks him to open the door instead of laughing. He comes close to her and takes pin from her hair.
Kaku tells client, he should give Chinnamma another chance. Hassu says Rohan also deserves chance. Client asks if they exchanged jobs, Hassu says both are hardworking. Kaku tells to cancel old designs and ask both parties to present new designs, new ideas. Client agrees. Hassu praises Kaku's business sense. Kaku says Rohan didn't tell her that he took Chinu's project. Hassu tells her to forget old things and think what to do ahead.