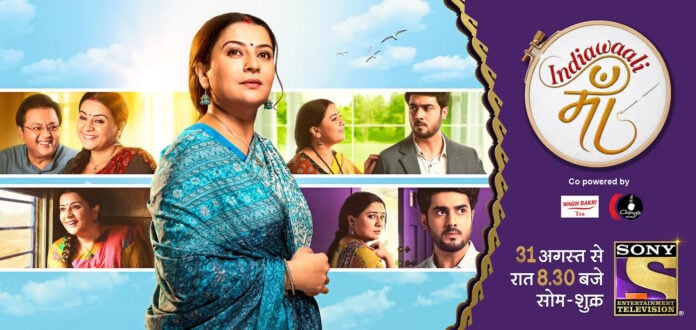 India Waali Maa Upcoming Story, Spoilers, Latest Gossip, Future Story, Latest News and Upcoming Twist, on Justhowbiz.net
Kaku, Hassu talk about their old moments. He asks her to come for a kannada movie, they will see it with Gujarati subtitles. Kaku calls Rohan and asks why he didn't tell about maternity project, Rohan says she wouldn't have supported him if he told her truth and he needs her support. Kaku says Chinu hired an assistant, Rohan asks male or female, Kaku says male, Rohan asks age, Kaku says 55+, Rohan asks his name, Kaku says name is funny, Bhatuknath.
Rohan asks her where is she, he will come to pick her up, Kaku tells him address. Kaku, Hassu go separate ways so as to not get caught. Kaku is petrified while crossing road, a van dashes her. Rohan sees and runs towards her, he makes her get up and asks why is she crossing road alone, he was coming for her right. Kaku gets scratches at few places.
Chinu asks Hassu what he told client that client gave her another chance to present designs. She says everyone feels she can't do anything, especially her father feels she is nothing without him, but he trusted her, she thanks Hassu. Hassu smiles and says he didn't do anything big, no need to thank these many times.
He says she could start working on new project with this new zeal, but Chinu is stubborn as she want to win over Rohan. Hassu says this much anger exists only where there is love. Chinu says she loved Rohan a lot, but he disappointed her many times. Now she wants to live for herself, Hassu says he is proud of her, girls like her who want to be independent and find oneself. Chinu says out of all, he trusted her, there was one more person who trusted her.
Kaku is resting, Rohan says nurse will come soon to give injection. Kesar asks Rohan if he told his father about Kaku injury. Rohan says no, Dad will worry at home and think he isn't taking care of his mother. Kesar calls Hasmukh and tells Kaku fell down while crossing road, but he need not worry as she and Rohan are there to take care of Kaku. Hassu gets worried and says he can't trust Rohan, Kesar says Rohan is taking care, he is giving timely medicines, changing bandages.
Hassu is opening door to go out, but Chinu stops him saying he can't go out empty stomach, she serves him lunch. Hassu says he doesn't feel like eating, Chinu says she also felt the same yesterday but she ate, so he also has to eat now with her. Hassu remembers Kaku cutting her finger while cooking, he stayed with her taking her care. Chinu asks what happened, he can share with her as daughter, she also shared her personal matters with him as father. But Hassu goes out, he cries and asks Kaku to forgive him, he didn't make her cross road and left her in between.