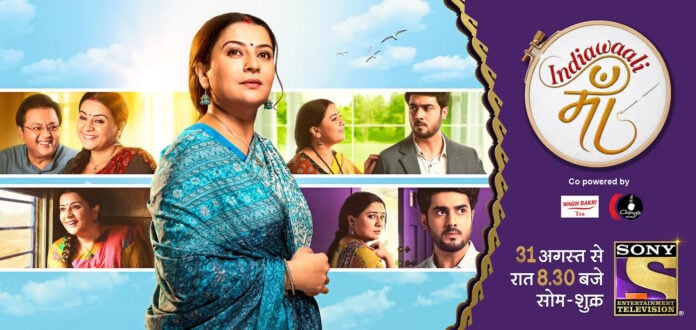 India Waali Maa Upcoming Story, Spoilers, Latest Gossip, Future Story, Latest News and Upcoming Twist, on Justhowbiz.net
Kaku does Rohan tilak and wishes him all the best, Hassu does aarti to Chinu and wishes her to do well, she thanks him saying he increased her confidence. Kaku prays to God to let Chinu's efforts also succeed. Chinu videocalls Kaku and both talk heartily.
Clients come for presentation, Rohan, Chinu look at each other challengingly. Kaku tells Hassu that Chinu went inside with her team, he should stay with Chinu, she will be with Rohan. Client asks Chinu to start first, a girl comes exhibiting the designer clothes. Clients discuss among them, Rohan signals thumbs down to Chinu. Client asks Rohan to start, a girl comes wearing their designs.
Chinu signals thumbs down to Rohan. Client is ready to announce the result, Rohan tells Chinu to be ready to go home, Chinu says its him who will leave. Client says he isn't giving contract to any of them, he didn't like both of their designs. Chinu says she will explain her design once again, Rohan says he liked their designs earlier. Hassu signals Kaku to come out.
Client is ready to leave but Kaku stops him, she says final design is remaining, she asks him to give 2 minutes, he already gave them lot of time. Client agrees. Kaku presents the design, client says Wow and asks why isn't it presented earlier and which company is this, Kaku says Rohan Gadvi and Chinnamma Murthy company. Client gives the contract to both and congratulates Rohan, Chinu. Kaku remembers Hassu telling her to mix both designs.
Rohan, Chinu ask Kaku what did she do, Kaku remembers Hassu telling her as soon as Rohan, Chinu hear about company, they will confront her, then she will have to use mother card. Kaku acts like crying and says she got very tensed and felt project is going out of their hands, so she did this. She told them they will understand what parents feel while seeing kids lose. She asks them to work together, they get shocked, Kaku again cries and says she will go and apologize to client, Rohan, Chinu agree to work together.
Kaku tells them to shake hands as partners. Chinu tells Rohan to come to office tomorrow. Rohan says he won't come, Chinu gets angry. Kaku cries and asks Rohan to go and she tells Chinu to be patient. Rohan agrees. Chinu leaves, Kaku sees Hassu message that he left as Rohan shouldn't see him, they will meet for tomorrow breakfast. Rohan asks Kaku to come.
Next day morning, Kaku tells Rohan that he is now Chinu's business partner, he has to deal patiently and not with ego. She serves him breakfast. Kaku says she will go to leave Kesar ba, she is going to Bhuj and will come back bringing material. Kaku meets Hassu and helps him with breakfast. Chinu wakes up.