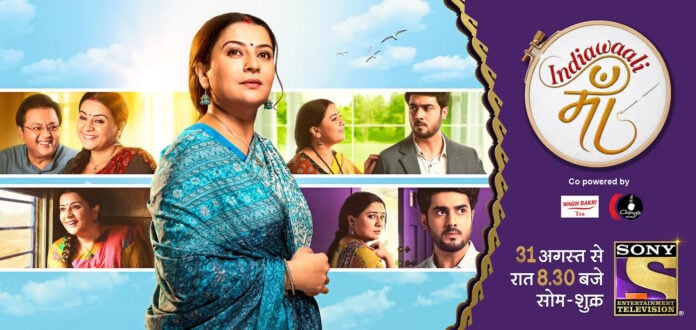 India Waali Maa 19th November 2020 Written Update On JustShowBiz.net
Chinu tells Kaku there's no project now, so there's no meaning for Kaku to come, she can rest at home. Kaku is going out, Rohan asks where is she going, she has leg pain right. Kaku says she got call from office, she has to go, no work happens there without her. She kept poha in fridge and asks him to eat later, she will come and cook food freshly at night. He asks her to take care of her leg pain, she says fine and asks him to study well.
Kaku calls clients and asks why they canceled marriage, she lost job because of it, she does drama of having 9 kids. Clients say sorry and are ready to compensate. Kaku asks them to come to office. Kaku calls Balwinder and asks him for a help.
Kaku comes to office, she asks Balwinder to on the lights, office people see decoration. Kaku says she called clients to come here. She tells Chinu to act like she said. Akshay disagrees, he doesn't want to involve Rohan. Its his company, his decision. Chinu says she will leave company, its her first project and its very important for her, to give new direction to her life. He gave great opportunity to her but she failed, she can't roam in office with failure tag. Akshay agrees for Kaku's plan, but he says he will act as couple with Chinu, no need to involve Rohan. Chinu agrees to act with him. Akshay thanks Kaku.
Hassu talks to Rohan, he asks how far is college from home, Rohan says its near only. Hassu asks if fee payment and formalities are done, Rohan says yes. Hassu ends the call. Jaan asks whom is he talking, he teases if its any affair. Hassu says he loves his wife, he was talking to his son. Jaan asks why he talked so formally with his son. He and his father used to be very cool with each other.
Balwinder asks Kaku why she looks sad, she says she wants her son and Chinu to reunite. She narrates what all happened, he says she must have been so hurt amidst all this. Kaku says Rohan, Chinu love each other a lot. Balwinder gets excited and says he will help her in uniting Rohan, Chinu. Kaku says she has an idea, but way is wrong. He says if intention is right, wrong way is fine. He goes to Akshay cabin and says they have to go to select venue for Diwali party. Akshay sees Chinu in traditional dress and is mesmerized. He asks Kaku how much time is left for clients to come.
Kaku says 3 hours, Akshay agrees to go out for meeting. He praises Chinu to be beautiful, she thanks him. Balwinder praises Kaku's acting. Akshay tells Chinu he will come back before clients reach. Kaku praises Chinu to be looking very good, Chinu says Akshay shouldn't have left now, clients may come anytime. Clients come and Chinu is tensed, Kaku says there must be some misunderstanding regarding timings, they will manage.
Client wishes Kaku happy diwali, he apologizes as she faced difficulty because of them, it all happened because of his fiance stubbornness. His fiance comes and asks if he won't say his mistakes. Chinu wishes them happy diwali and asks them to come in. Chinu asks Kaku what will they do now, Kaku says if mother is in trouble, child will come. Rohan calls ma, Kaku tells him and Chinu to act like she said.