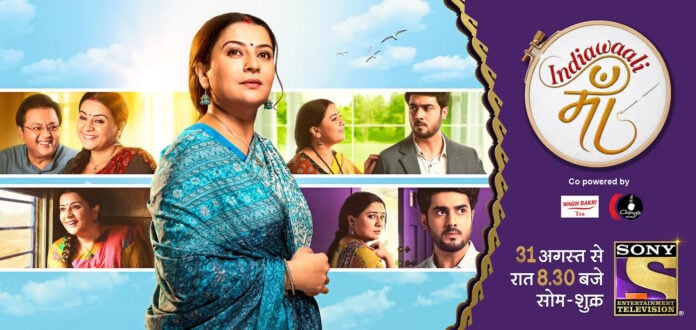 India Waali Maa Upcoming Story, Spoilers, Latest Gossip, Future Story, Latest News and Upcoming Twist, on Justhowbiz.net
Kaku tells clients that Chinu, Rohan fight each other for small small things but they get together every time, just her BP fluctuates. Rohan says Chinu gets angry a lot, now he held her hand a bit tight and she is angry. Chinu says if he knows she will get angry, why did he do that. Its men habit to do what's not to be done. Client agrees, man gives cheque to Kaku as compensation.
Kaku says all this will happen, she offers him sweets as its diwali. She says Chinu, Rohan forget fights quickly as they remember 7 wedding vows. Kaku told Rohan, Chinu to byheart vows, they recite vows to love each other whole life, to be always loyal etc. Clients listen to them attentively. Rohan, Chinu pretend to fight again and they leave in opposite sides.
Kaku praises Rohan's acting, client comes and asks Rohan to come for a coffee. Kaku told clients individually to talk with Rohan, Chinu respectively as they are of same age group. Kaku messages Balwinder that everything went as per plan, they can come back now. Akshay and Balwinder are waiting, they think to go back now as lot of time is wasted.
Rohan, Chinu sit with clients on different tables in same office shop. Clients go to Kaku, she asks what happened between them that made the marriage canceled, she knows its their personal issue and she has no right to involve.
Client says she got job in India and accepted it without asking him, Kaku says she should have discussed right, what's meaning of marriage if they don't stay together, she asks him if he likes India, he says he loves India. She asks if he gets job in India, if she would be ready to come India instantly. Clients realize.
Kaku asks them to help her unite her kids, they agree. Male client goes to Chinu and says Rohan is sorry for her. Female client goes to Rohan and says Chinu is very sorry for him. They all gather and Chinu asks why should she agree to them who didn't tell sorry themselves.
 Clients apologize to each other truly, she should have discussed with him about job, he shouldn't have over reacted. They thank Kaku as if they didn't come here, they wouldn't be together. Their marriage is on. Kaku tells them to attend Diwali Aarti.
Chinu hugs Rohan and thanks him, Akshay comes and sees that, he asks Chinu she didn't want to stay with Rohan. Chinu says he wasn't there in office, so she had to act with Rohan. Akshay asks how was the marriage play act. Client hears it and asks what act, if they aren't married. Akshay says no, Kaku says she planned it to make them realize what they are losing. Clients thank her.