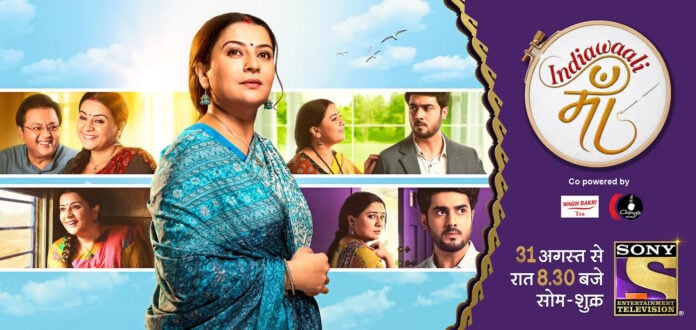 India Waali Maa Upcoming Story, Spoilers, Latest Gossip, Future Story, Latest News and Upcoming Twist, on Justhowbiz.net
Kaku hides behind Hassu and escapes. Chinu sees Bhatuknath ji's call and comes to hall asking why he called. He says he didn't call, may be his hand touched by mistake. Chinu asks why he didn't wake her up early, she can't afford going late today. He says he thought she would wake up according to her time.
Kaku meets Kesar maasi down and apologizes for being late, she thanks her as she meet Hassu saying her name. Kesar says watchman will drop her, she can go to office. Kaku tells her to take care and go to correct railway station. Kesar asks what gift did she ask Hassu as tomorrow is their wedding anniversary. Kaku says she was about to ask but Chinu came. Kesar leaves before saying she will bring excellent material.
Chinu comes to office and sees Rohan talking to Keerti, she feels angry and jealous. Rohan says he don't like people coming late, Chinu says though he came early, he is wasting time chatting. Employees come and Chinu greets them giving goodnews, they got maternity fashion wear project, Rohan says they both got, employees have to get both of their approval, he and Chinu fight over this.
Balwinder greets Kaku, Kaku scolds Chinu, Rohan and attaches a rule paper. She tells them to follow as they are business partners now, they shouldn't fight. She asks Chinu what is her work, Chinu says designing with her. She asks Rohan what is his work, he says financing, promotions, publicity. Kaku asks if he knows stitching etc, he says no. Kaku asks Chinu if she knows financing, she says no. Kaku says when both don't know each other works, what's point to interfere.
Meenu is dancing with loud music, Vasu asks her to reduce volume, she doesn't listen, Vasu switches off music and asks what is she doing, her father will come. Meenu asks how dare she talk like that, she didn't interfere in her life when she had to, now why is she trying, Akshay had gone. Vasu tells her not to waste her life and eat, she came late night yesterday, if her father comes to know, he will get angry. Meenu asks if she didn't tell him yet, Murthy comes and asks what she has to tell, Meenu tells him she came home late night, she went to party and boys were also there and Vasu helped her in going out and coming in.
Meenu says she feels pity for Vasu, when she tries to become good wife, she will fail as mother, when she tries to be come good mother, she will fail as wife. Murthy asks is this the way to talk, he worked hard to bring her good proposal and it went out of their hands. Vasu says she fears their 2nd daughter is also going out of hand.
Hassu calls Kaku to come by 6. Kaku and Chinu discuss about colors and dyes. Keerti taunts them. Kaku says she will go to market to see natural dyes.