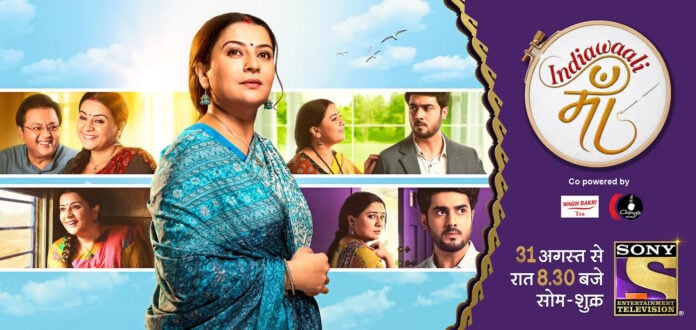 India Waali Maa Upcoming Story, Spoilers, Latest Gossip, Future Story, Latest News and Upcoming Twist, on Justhowbiz.net
Chinu tells her father that they got project along with Rohan Gadvi. So Rohan will be in this office till the project completes. Murthy says Rohan will push the company to loses. He tells Chinu to leave the project. Chinu says she will leave office but won't leave project even if she has to operate from outside. Murthy says he won't invest even a single rupee in this project.
Chinu says its interesting, it will make her stronger. She will find another investor. Rohan hears it and smiles. Murthy says at home, Meenu doesn't listen to him, and here even she is not listening. His daughters are a big problem for him. Rohan tells clerk to give lemon tea to Chinu without mentioning his name.
Kaku asks Hassu if he forgot anything, he says he remembers everything, he is a busy man, he looks after this house, cooks food and sees accounts of his shop at Bhuj. Kaku is angry as he forgot about anniversary, she is leaving as Chinu will come soon. Hassu holds her hand stopping her, Chinu comes same time. Hassu sees Chinu and acts like stranger and asks Kaku to leave his hand, what's this behavior, meeting a man alone in his house.
Kaku sees Chinu and leaves hand, she says she came to see if she is settled in the house. Chinu asks Kaku if Chandraprabha didn't tell her about him, Kaku says no, Chinu says she will introduce both. She says Kaulshalya ji is Rohan's mother and Bhatuknath ji is her flatmate and he is also from Gujarat. Hassu asks if its same Rohan who troubled her. Chinu tells him not to talk like that, Kaku is very good person and she respects her a lot. Kaku says Rohan went on his father who forgets all important days.
Chinu asks if they both know each other, Kaku husband is in Bhuj and Bhatuknath ji's wife came to Bangalore. He says how can anyone know a person in 10 mins. Chinu tells Kaku to stay here for dinner, Bhatuknath ji cooks well. He says his wife taught him before leaving. Kaku says some other time, she has to go home and cook dinner for Rohan.
Murthy tells Vasu to talk to Chinu, tell her about Meenu's love for Akshay. Vasu says it will make Chinu more guilty. Murthy says he wants the same, he wants Chinu to think about Meenu and leave the project. He wants his both daughters back as before.
Rohan wishes Kaku happy anniversary and gifts her a clutch bag. He gives one rupee coin which has lot of memories. Kaku feels happy and emotional. He asks if papa wished, she says no, he forgot. Rohan says she can wish, she says no, let Hassu remember, she tells Rohan not to remind his father.
Rohan calls Hassu, Hassu asks if everything is fine, why he called. Rohan says ma made basundi today, he called to tell the same and cuts the call.