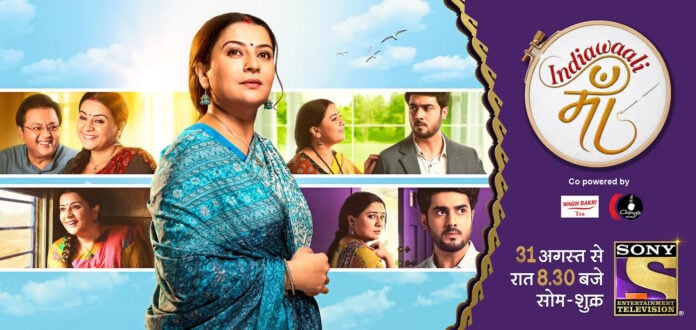 India Waali Maa Upcoming Story, Spoilers, Latest Gossip, Future Story, Latest News and Upcoming Twist, on Justhowbiz.net
Chinu shows earring to Kaku and asks if she lost it, Kaku says no, she didn't lose, Chinu doesn't believe, Kaku diverts the topic saying Madanlal from Bhuj called, he is a big dyer there, they will take on video call. Kaku leaves thinking Chinu caught her lie.
Rohan asks the women if they hadn't got the right color yet, they have lot more works, he will call client and ask for more time. Kaku tells him against doing so, they may lose the project. She calls Hassu for help/suggestions but Rohan cuts the call saying he won't take help from his father, he will be called as worthless again.
Chinu comes and says she has solution for dye problem, she shows salt packet, Bangalore water don't have salt, that's why they are not getting right shade, she mixes salt in mixture and they get desired color. Rohan says he didn't expect this from her but he is impressed. He asks how did she crack this. Kaku remembers telling about dying problem with Hassu, Hassu told water is different at different places, they have to add salt. Kaku says she forgot this and thanks him, she says she won't do this and asks him to tell this tip to Chinu, it will raise Chinu's self confidence and Rohan will also start believing in Chinu.
Back to present, Chinu says a quote which means, going alone one can win small challenges, but going together wins us big challenges. She asks Rohan if he is ready to work with her. Rohan asks who told her this quote, his father also talks similarly, Chinu says these are Bhatuknath ji's words, he is a wise man, he has solutions for every problem. Rohan says he wants to meet that intelligent man, Chinu says sure. Kaku gets tensed and asks them to start working.
Kaku helps Hassu with cooking, he says Rohan doesn't want to take his help, Kaku says Rohan took his words to heart, calling him worthless really affected him. She asks Hassu to forget old things, Rohan is their son and Rohan changed a lot. Hassu says he is doing all this for her, otherwise Chinu told him Rohan disappointed her many times.
Chinu comes to apartment and asks watchman if he saw any lady going to her flat after she left for office. He says a lady comes daily. Chinu goes up and rings the bell, she hears a man and woman laughing. Hassu opens the door and Chinu asks who is there with him. Chandraprabha comes from inside room, she says she came here to collect rent few days back, now she came again to search for her earring which Kaku gifted. Chandraprabha recalls Kaku asking for help. Chinu thinks she misunderstood the situation and gives earring to Chandraprabha.