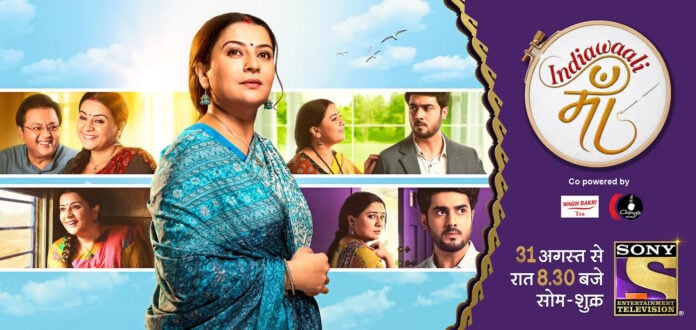 India Waali Maa Upcoming Story, Spoilers, Latest Gossip, Future Story, Latest News and Upcoming Twist, on Justhowbiz.net
Akshay comes to Chinu's home, she says she wants to go out now, will meet him later. He says she didn't lift his calls, didn't reply to his offer letter. She needs time, she has to discuss it with Rohan, he may feel she is old school but Rohan is her child's father.
Akshay says there's a party and he wants her help in shopping. Chinu asks if he can't dress up on own. He says its unfair, she got her soulmate and he is still single, many hot girls will come party, he has to look nice. She has to go to Rohan's office to meet Kaku. She will inform Rohan about shopping.
Chinu calls Rohan, he asks about her sonography, she says its done and reports will come soon, she is coming to his office, she didn't see it yet. He says its very messy now, how can she come. She says if Kaku can come, she also can. She is going to help Akshay with shopping, she will come office after that. Rohan says fine but his expression changes. Call ends.
Kaku sat down with pain, Rohan asks what happened, she has knee pain, she was bringing cylinder by rolling. He asks why does she want everything to do on her own, she could have waited some time. She says neighbor shopkeeper was saying to remove things soon. She asks for her phone, she sees Tripti missed calls and thinks Hassu must have called. She video calls Hassu, he asks where was she, why she wasn't attending calls. She says she is not Kaku now, she is business woman Kaushalya Gadvi, she was busy in work. He laughs and asks if she broke her fast.
Rohan is shocked to know of her fasting, he leaves to bring fruits. Hassu and Kaku eat. He asks if she is fine, she is looking ill. She is fine and Rohan takes care of her. Rohan goes to bring more fruits. Kaku tells Sagar to see the bill and file it. Sagar asks if she signed it, she says yes. He takes pics of bill paper, she asks why is he doing so, he says its for proof, he covers it up saying papers may get lost somewhere but pics will be saved in phone.
Rohan brings fruits, Hassu video calls again and says he forgot to show her temple and shows it now. Kaku forgets to end the call and Rohan asks her about knee pain, from when she is suffering from it. She says its been 2 years, some people tell her to get operation done, but she fears it. Hassu hears their conversation and hears that Kaku lifted cylinder.
Call ends. Kaku asks Rohan about Chinu, he says Chinu has more important work now. Chinu asks Akshay to drive fast as  Kaku, Rohan must be waiting for her. Vasu calls Chinu and asks her to come home soon as Meenu locked herself in room and not opening the door.
Rohan asks Sagar when will they get Patel contract papers. Sagar says soon as and when stamp paper is done. Kaku asks if it means paper work was not done. She says Patel is good person but Hassu says irrespective of relation, business should be started only after paper work. Sagar is tensed and asks if she is doubting him, Rohan faced many problems, but he didn't leave his side. Rohan tries to calm the situation but Sagar leaves angrily.
Akshay, Chinu come home and Meenu opens door after Akshay saying he will break the door. She happily says she knows he will come. Chinu says everyone is tensed and she is behaving so casually. Meenu shouts at Chinu. Murthy asks Chinu if she is happy now, there is no peace in this house, his both daughters life is ruined. Chinu leaves sadly. Akshay goes behind her. Chinu agrees for job. She has to prove herself, she can make decisions, she is not so useless.
Hassu calls Kaku and asks why she lifted cylinder, she is hiding things from him.