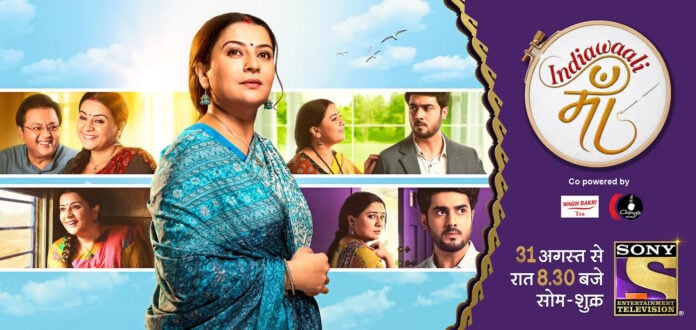 India Waali Maa Upcoming Story, Spoilers, Latest Gossip, Future Story, Latest News and Upcoming Twist, on Justhowbiz.net
Its Chinu's first day for office and Kaku does aarti to her and wishes her well. Chinu says Rohan is not talking to her, she has to make him understand, Kaku says okay and gives her lunch box. Akshay comes and hugs Chinu, Rohan sees it. He wakes up from sleep, its all her dream. He calls for Chinu, he comes down and asks Kaku where is Chinu.
Kaku says she went to work, Rohan asks where, she says place is not important, she realised her responsibilities and want to do something for family. Rohan again asks where she is working. Kaku says Akshay offered her job. Rohan tries calling Chinu, Kaku stops him, she says Chinu has right to make decisions, she wants to raise her baby well. She tells Rohan to talk to Chinu after she returns home, not now. Rohan goes away angrily.
Chinu goes to office, Akshay welcomes her. He will show her cabin and arranged all her favorite cookies, coffee. Chinu asks him to treat her as all his normal employees, she doesn't want special treatment, she wants him to keep it professional. He says okay for now, times will change, people will change, who knows what will happen in future. He says he will call her Chinnamma in office, no Chinu or Gundi.
Kaku comes to office, Sagar praises her work and asks her to hold jacket, he will click pics. She doesn't agree, not in between work. Rohan asks Sagar where is supervisor who is supposed to come today for checking. Sagar says surpervisor will send his man anytime soon, he will call and check. Kaku observes them. Sagar goes out and calls a man to send some actor as supervisor.
Vasu comes to office and sees the name Kaushalya Enterprises. She says Kaku forgot them, but they didn't forget. She congratulates Kaku and Kaku thanks her. Kaku shows the jacket she made, she shows the design and says they have to make 500 exact copies. Vasu asks if she made it all with hand. Kaku says yes, in Bhuj they are taught stitching.
Vasu pretends to cough and asks for water. Kaku goes to get water. Vasu calls Murthy, he is right, Rohan is again doing wrong, they are copying designs of a famous designer, she saw this design somewhere. Murthy says this is bad for Chinu. Vasu says she will do something and ends the call. She clicks the pics of design. Kaku gives her water bottle. Vasu says she will leave.
Chinu's work is done and Akshay asks how is she feeling, she says very satisfied, she feels why she didn't think of doing job earlier. Akshay says its because she fell in love in college, he says its a joke. He asks if Rohan stopped her from working. She says no, Rohan encourages her to work. Akshay tells her about a wedding, she has to design everything, she asks when to go, he says tomorrow. She says its so early, he says wedding timings can't be changed. He will exempt her if she wants, she says no, its work, she will go.
Rohan gets Chinu's call, he cuts it. Kaku scolds him, she thought he is broad minded but he turned out to be jealous. He says she was also jealous of their neighbor who talks to Hassu. Sagar explains a man who is pretending to be supervisor what questions to be asked. They come inside and he priases Kaku and asks her for a video telling about herself and work. Murthy is seeing her video live.