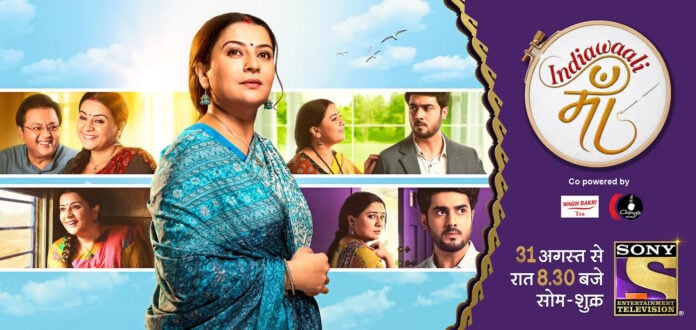 India Waali Maa Upcoming Story, Spoilers, Latest Gossip, Future Story, Latest News and Upcoming Twist, on Justhowbiz.net
Vasu says she feels they are hurrying with engagement, Chinu may not be ready to get engaged in 3 days. Murthy raises his hand to slap Vasu, Kaku holds his hand and stops him. She says she knows he doesn't care about what his daughters feel.
But today she saw he doesn't care about his wife too. She asks Vasu if she goes through every right or wrong for this type of man, patnidharm is good, but its more important to fight for her self respect. She asks Vasu to think on this aspect and leaves.
Kaku emotionally welcomes Kesar maasi.
Akshay brings Chinu home, Murthy sees her walking unstable and asks what is she doing, her engagement is in 3 days, if she cares about his respect. Chinu laughs and says she respects him, he makes so many plans against her, if she goes in a way, he already stands as an obstacle. If she goes in another way, he comes there too.
She understands that's how he wins business man of the year award. She asks Vasu if she loves her daughters and calls Vasu liar, she says Kaku loves her the most, more than this house people. Vasu takes her to room. Murthy tells Akshay to leave maternity fashion project. Its already causing them trouble. Akshay says no, its time to show the two of them their place and smirks.
Kaku asks Kesar maasi what happened between Chinu, Rohan. Kesar sings song and tells how they danced, their eyes full of love. Kaku feels happy but says there's a bad news. Murthy warned her not to show too much smartness, he advanced engagement date to 3 days. Akshay calls Rohan and says their engagement is preponed, he asks Rohan not to think about Chinu too much, she was drunk. Kesar tells Kaku not to worry, they will try their best to unite Rohan, Chinu, rest is on God. Both call Rohan for dinner and feed all his favorite dishes.
Chinu is working and sees Rohan coming to office, they remember yesterday moments. Office members gather and see Kaku, Kesar ba coming with their gang. Akshay asks what's happening, Kesar says its their ritual, they bring Ganapati before starting any new work. Puja starts and Akshay says he never saw this much Puja his whole life before she came to office.
Kesar taunts him in Gujarati, he doesn't understand, Kaku says Kesar meant Mahurat is passing, she asks him to start Puja as owner. Kesar says people working on project should do Puja and calls Rohan, Chinu. They do Puja and all employees do Garba.
Hassu talks to Kaku, Kesar on video call, he asks them to do something fast before distance between Rohan, Chinu increases.
Precap: Kaku apologizes to Chinu, she won't play any games now, she played earlier because she knew Chinu loved her son. Chinu asks if she isn't her daughter.