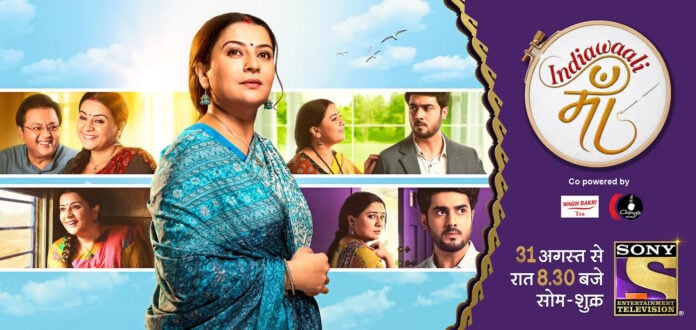 India Waali Maa Upcoming Story, Spoilers, Latest Gossip, Future Story, Latest News and Upcoming Twist, on Justhowbiz.net
Kaku tells Rohan they will get ready and go to Murthy's house for Puja. Venky tells Vasu he will come to Puja. Vasu shows the jacket to Meenu, Kaku sent this for her and asks her to wear it for the Puja. Akshay will like it on her. Meenu excitedly asks if Akshay is also coming for party. Vasu says yes.
Chinu sees Rohan's message and tells Akshay that Kaku and Rohan are going for Dusshehra's Puja at her father's house, she will have to leave now. Akshay says they just finalized the deal, they have to discuss it with manager on a coffee.
Chinu says that manager gave her weird looks throughout the presentation. She is uncomfortable with him. Akshay says she needs time to understand business people. Manager was praising her. He calls her smart and beautiful. Chinu asks him not to talk like that. Akshay asks why, if Rohan doesn't praise her, Chinu says Rohan admires her in very special way.
Murthy greets Rohan and praises him for new business, Meenu greets Kaku and says she loved the jacket. Rohan asks Meenu if Chinu didn't come yet, she asks where did Chinu go, he says she went out of town with Akshay on work. Meenu is going to remove the jacket, Murthy asks why is she taking off, Kaku made it lovingly with her hand, everyone should know it.
 He announces to everyone that a housewife made this much difficult design and praises Kaku. She says this design is not hers. Venky comes and says its his design. She is innocent looking and doing fake label illegal business. This is crime, they not only copied design but also printed fake logo of his company.
 Rohan says something went wrong, he doesn't know its his design. Venky says he will call cops. Vasu says not to call police, its her elder daughter future. Murthy shows fake concern. Rohan and Kaku go to their office, he tells Sagar to gather all these, they have to demolish proofs.
Murthy calls cops and says Venky report is true, he will send workshop address. Vasu asks why he is doing this, mother-son got lesson infront of all, why to call police, Murthy asks her to use brain, Chinu will finally get rid of them.
Rohan brings kerosene, he asks Sagar why he is standing idle, Sagar says they should not do this, its wrong. Kaku sees Venky's label and remembers Sagar actions, she says its all Sagar's plan. He changed label, he clicked pics of documents, this is the reason Patel got shocked when she asked about investment.
Rohan holds Sagar's collar and asks why he did all this. Sagar says this is his business, he doesn't care about right or wrong. He escapes. Rohan takes the boxes out and burns them. Kaku looks on sadly. Police come and accuse them for illegal work and burning proofs. They arrest Kaku.