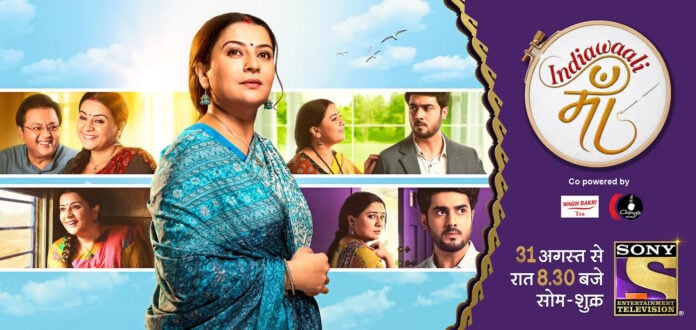 India Waali Maa Upcoming Story, Spoilers, Latest Gossip, Future Story, Latest News and Upcoming Twist, on Justhowbiz.net
Rohan says he can't put fire in basti, Murthy asks why, is it because his parents are there. He tells Meenu she can't be with loser Rohan, Meenu says Rohan will do as he says and takes Rohan along with her. Rohan asks if she is out of mind, he can't do that, also he doesn't love her. Meenu says Appa can do anything, its better he deal with this matter.
Vasu tells Murthy he is doing wrong, Rohan's parents are living in basti, how can Rohan put it on fire, imagine how will he feel if his daughters do this with him. Murthy says she doesn't have kids, its better if she stays out of this.
Rohan tells Chinu to make Kaku understand to leave the society, he is telling for their safety. Chinu says she won't help him and tells him to get out.
Chinu comes to society and talks to buyers about orders. Kaku feeds her thepla as Chinu didn't eat breakfast. Chinu says first list is over, make 2nd list too soon. Chinu and Kaku hold boxes are going to deliver packets to Shetty brothers.
Rohan comes to Shetty office and asks to cancel the order he gave to anand nagar ladies. Shetty says he won't, all are helping them, why not he. Rohan says one of the ladies is his mother and her life is in danger. She may face bit of trouble by cancellation of order, but she will be safe. Shetty calls Chinu and cancels the order citing the reason, he is going out of town and shop will be closed, so thepla will be spoiled. Kaku says they are already on way, they didn't sign contract but he gave word, its business rule.
Shetty ends the call. One by one all orders get canceled. Ladies discuss what's happening, buyers are giving random reasons, one person told they don't have place in shop to put theplas. Chinu asks Kaku if Rohan is behind this. Kaku says no, Rohan is doing many mistakes but he may not do this. Officer comes and asks if next installment is ready, Kaku says there's still time and they will pay. Officer says builder offer may not be till that time.
Rohan hugs Meenu and thanks her, its because of her idea he could do this. He sees Meenu smiling and separates from her and apologizes to her, he got emotional. He is going away and Meenu holds his hand, she is not regretting this and asks him to be hers.
Rohan comes to basti and says they will give them new place to live, help with shifting and also bear their expenses till they settle in new homes. Its better they give their land as they won't be able to pay tax. Kaku tells the ladies not to believe, but Laxmi says they don't have any other way and they all go towards Rohan.
Precap: Kaku tells Hassu she will talk to basti people again and give them hope. Murthy sends his men to kill Kaku, Hassu.