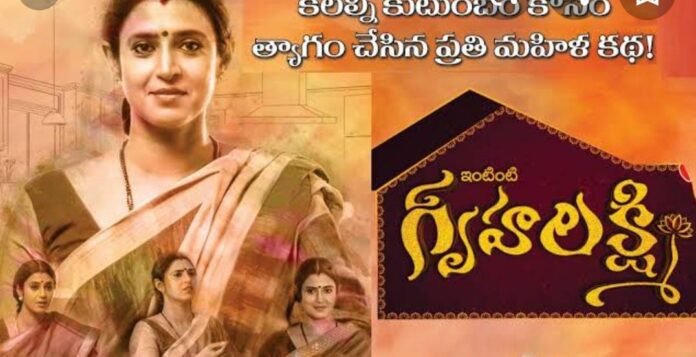 Intinti Gruha Laxmi Upcoming Story, Spoilers, Latest Gossip, Future Story, Latest News and Upcoming Twist, on Justhowbiz.net
The episode starts with Nandu feels bad thinking Ramana words. Lasya asks him to dont think about Ramana words. Nandu says he lost his courage and scared for everything. Lasya says don't talk in that way, try to face situation. Tulasi goes to Nandu office and meets manager and introduces herself as Nandu wife. Manager says he knows her and asks why she came to meet him. Tulasi says our whole family is suffering with Nandu state so please give his job back.
Manager says he cheated you but still you care for him. Tulasi says she never want something bad happens to him and whole family depends on him. Manager says he can't ignore complaints. Tulasi says I have to complaint against them but I didn't so don't care about others and think how Nandu worked for your company growth so give him one chance forgetting his one mistake. Manager says you're right and want to give him job after listening your request so I will wrote letter to Mumbai office and tries to make Nandu gets his job. Tulasi thanks him. Manager says we can't give job yo Lasya because their are many complaints over her work too. Tulasi agrees.
Bhagya,Anasuya and Lasya mocks Tulasi. Nandu asks about what they are talking. Lasya says they are talking about their situation and I feel we have to start good business. Nandu says they don't have money. Lasya says sell this house. Nandu father says it's not your house so stay away from my property which belongs to Tulasi. Anasuya attacks her husband to sell the house but he denies. Nandu leaves asking Lasya to leave the matters.
Sruthi cries thinking her moments with Dad and she tries his number to know his situation. Her dad cries asking where she went. Sruthi says she don't have anyone except her. Her dad asks why she left from him. Sruthi says she left because of Ashwin. Her dad says he can't look happy when she is ruining her marriage life and I will be happy when you stay happy in your marriage life and try to meet me when you're ready to live with Ashwin otherwise leave me. Sruthi apologies saying she can't live with Ashwin and cuts the call.
Manager calls Nandu and asks him to meet him. Nandu asks why. Manager says I want to give you job that's why I wrote letter to Mumbai office and will try to make you get Job. Nandu thanks him. Manager says thank you wife Tulasi because she met me and changed me with her words that's why I'm giving you this opportunity.
Anasuya asks her husband to sell house. Bhagya questions why you gave house to Tulasi when you have other son. Nandu father says he knows what to do. Anasuya asks him to sell house for Nandu. Tulasi enters and says no need to sell house. Anasuya says enjoy this property and you're cunning who don't care for others. Lasya and Abhi too supports Anasuya.Nandu father asks his wife to stop blaming Tulasi. Ankita says these people always point Tulasi aunty who thinks for family unlike them.
Precap – Sruthi says it's not safe to roam outside Prem because we may face problems if Ashwin caught us. Ashwin calls Tulasi and asks about Sruthi.