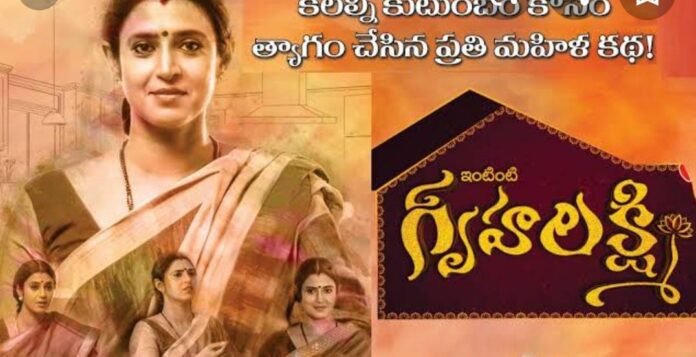 Intinti Gruha Laxmi Upcoming Story, Spoilers, Latest Gossip, Future Story, Latest News and Upcoming Twist, on Justhowbiz.net
The episode starts with Tulasi tells to Divya that she proud of her. Prem tells to his Mom that they can't get enough money even if we sell your jewellery so lets think about another way. Next day Tulasi thinks about bank people warning. Nandu father asks her what she decided. Tulasi says every way is getting closed and I'm not getting how to arrange the money so to save our family respect I'm thinking to mortgage this house and I know you don't like this idea but this is the only way so forgive me. Nandu father says I'm already confused but I trust your decisions so do what you feel is correct.
Anasuya says how can they pay money. Tulasi says don't worry Mom in law, I'm going to mortgage our house to get that money. Bank officer enters and asks her for money and than he calls Nanda Gopal. Nandu comes downstairs. Tulasi asks for one hour more time so she can get money mortgaging their house. Bank employee says we won't leave believe your words, don't think we are fools, do you have another boyfriend to give you money in one hour. Tulasi looks prettified with her insult.
Prem slaps Bank officer for insulting his Mom character. Bank officer says he will complaint to police. Prem says we too give complaint that you're misbehaving with ladies than they will attest you. Bank officer asks him to pay the amount. Nandu father ask Bank officer to give them some hours time. Prem says don't need beg them and pays the 3lakhs amount to him. Bank people about to leave but Prem stops them and asks to leave after apologizing his parents.
Bank officer leaves after apologizing to Nandu and Tulasi. Nandu father asks how he arranged 3lakhs in short time. Lasya and Anasuya says he may stealed it from someone or did some wrong work. Prem says my Mom raised my Mom raised me with honesty so I never do wrong work. Tulasi asks him what he did. Prem tells her how he signed on music company contract to get money killing his dreams of national championship competition, I mortgaged my one year time to save our family reputation. Tulasi and Nandu feels emotional. Nandu says I don't know how to thank you, you saved my life and family reputation. Tulasi feels happy.
Precap – Tulasi feels proud of son. Prem says his nature is because of her broughtup and sleeps in her lap.