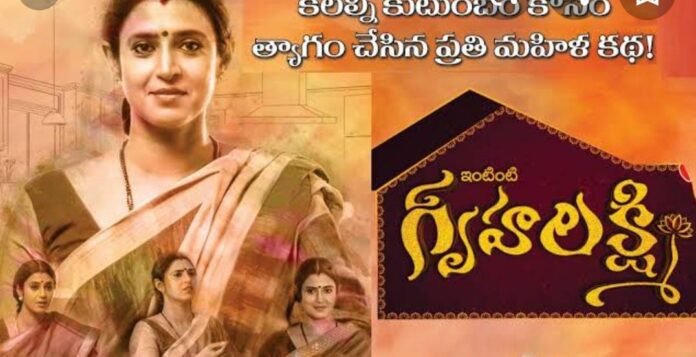 Intinti Gruhalaxmi Upcoming Story, Spoilers, Latest Gossip, Future Story, Latest News and Upcoming Twist, on Justhowbiz.net
Episode starts with Tulasi asks why Divya is looking dull. Divya says Lasya aunty is getting closer to Dad that's is making us lose hope that you guys will get united. Tulasi says i have my hope and you guys did what you can do, now time will decide what's going to happen. Divya says you have to take good decision not time. Tulasi asks what she meant. Divya says this situation may not arised if you resign your job when Dad asked you. Tulasi says i always do things while thinking about everyone and you don't have experience to understand me but I'm hoping your Dad will understand me one day.
Nandu asks why his Dad, Tulasi and others are not yet ready and questions if they are planning to ruin his reputation Infront of guests? Did you guys think how Lasya will feel if you guys are in dull mode. Parandamayya asks why can't he think about Tulasi feelings. Nandu says Tulasi is not understanding. Prem tells him he is misunderstanding their Mom. Nandu says I realised your Mom's nature, if respect me than attend the party otherwise it's your wish.
Bhagya praises Lasya look and than she asks her to implement their plan in party. Lasya agrees. Prem goes to his Mom and asks what's happening? Dad is strucked in Lasya trap, can't we send her out from our lives? Tulasi says currently time is not favourable to us that's why we can't do anything. Nandu welcomes everyone to party and he anounces about his new business along with Lasya birthday party and tells everyone that Lasya is behind his success. Everyone claps for them. Lasya thanks him. Nandu asks Ankita to get cake and Lasya celebrates her birthday happily than she thanks Nandu for everything. Nandu tells her it's my responsibility to think about you and I always remember your help.
Lasya asks if he can fulfill her another wish. Nandu assures to fulfill her wish and asks her to tell the wish. Lasya says let's get engaged in this birthday party. Everyone gets shocked. Lasya asks why everyone looks shocked, last time it's halted that's why I want it to happen on my birthday. Nandu looks confused. Lasya says we are about to get married than why You're thinking to get engaged to me. Nandu reminsces his fights with Tulasi and agrees for engagement and he about to make her wear the ring but Prem stops him saying you're not divorced so wait to get engaged to Lasya because currently Mom is your wife. Nandu says previously your Mom don't have any objection than why you're stopping me. Parandamayya asks him to wait for sometime. Anasuya scolds him to stop his sentiment dialogues and she encourages Nandu for engagement. Abhi too supports his Dad than Nandu and Lasya gets engaged Infront of everyone, Tulasi looks baffled. Lasya happily kisses Nandu hand.
Tulasi thinks about her happy moments with Nandu and his engagement with Lasya. Later Lasya hugs Nandu and thanks him for fulfilling her wish by getting engaged to her.
Episode ends.
Precap – Lasya tells to Tulasi that whole family supports her and officially they are couple.