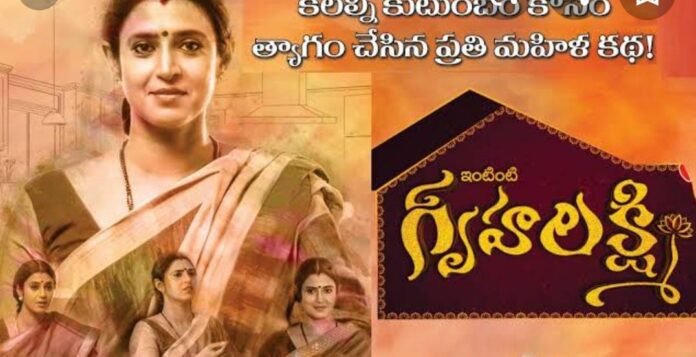 Intinti Gruhalaxmi Upcoming Story, Spoilers, Latest Gossip, Future Story, Latest News and Upcoming Twist, on Justhowbiz.net

Episode starts with Tulasi and Nandu exchanges Garlands happily. Lasya and Bhagya, Anasuya leaves from Mandap. Everyone congratulate Nandu and Tulasi. Bhagya says what's this nonsense, it's tough to see it. Anasuya says all Mad people are in our family only.
Lasya feels irritated seeing Nandu closeness with Tulasi. Vamsi says you're really great Rohit, until now you didn't marry because of your love for Tulasi and after knowing she is in problem you came to help her and you know that she is getting divorce but you didn't take that as advantage and trying to unite Tulasi with her husband.
Ashwin asks Sruthi to drink the coffee. Shruthi drinks that coffee without knowing his intentions. Ashwin thinks Shruthi can't escape from him anymore. Prem friend informs to Prem that Ashwin takes Sruthi to same resort you're in, and he is doing this to get Shruthi physically. Prem asks if he is correct.
His friend says it's correct because I get to know from Ashwin friend Rakesh and their room number is 110. Prem goes hurriedly. Ashwin notices Shruthi felt dizzy and touches her. Shruthi gets shocked in her dizzy state and runs from him. Ashwin follows her. Prem reaches to their room and notices it's empty and he goes out to search them.
After marriage Rohit remembers Past incidents and tells to Tulasi that she is great. Tulasi says it's her duty to keep her husband happy. Nandu says so many misunderstandings arised between us and sometimes I feel why these arises. Tulasi says that's life we have to correct our mistakes when we get chance and i wish you can know who's correct people in your life.
Nandu asks you might get angry at me many times right. Tulasi says I love you more that's why I don't get angry. Nandu says you're softhearted and your patience is awesome and you can change anyone with your words that's why I like you. Both losts in eachother eyes.
Shruthi dashes with them. Tulasi notices Shruthi in tears and asks her what happened. Prem also reaches to that place. Tulasi questions Ashwin why Shruthi is getting scared. Ashwin says nothing happened, she is just scared.
Tulasi says don't fool me because I can sense it that you're trying to get physically close with her. Nandu says Ashwin loves Shruthi, why are you blaming him. Tulasi says you don't know about him. Nandu says Ashwin is nice guy who loves his wife. Tulasi says don't get fooled with his acting.
Nandu says stop it, you always misunderstood people and behaves like stupid sometimes and I don't like this attitude in you that's why I'm getting separated from you. Tulasi says you're trusting wrong people and going far from your loved ones. Nandu says enough, I'm feeling irritated again and he leaves saying she don't change.
Shruthi hugs Tulasi. Ashwin about to go near Shruthi but Tulasi shouts at him. Ashwin gets scared and leaves from that place. Shruthi apologies to Tulasi for creating issue between them. Tulasi looks on in tears. Next day Ashwin apologies to Tulasi Infront of Shruthi and Rohit. Tulasi questions his intentions and warns him to take proper care of Shruthi. Ashwin acts saying you're misunderstanding the whole scenario, I'm changed man and you can know it from Shruthi.
Precap – Nandu questions why she you're supporting Shruthi? I wish we were divorced and finally I'm decided that our divorce is final and will marry Lasya for sure.