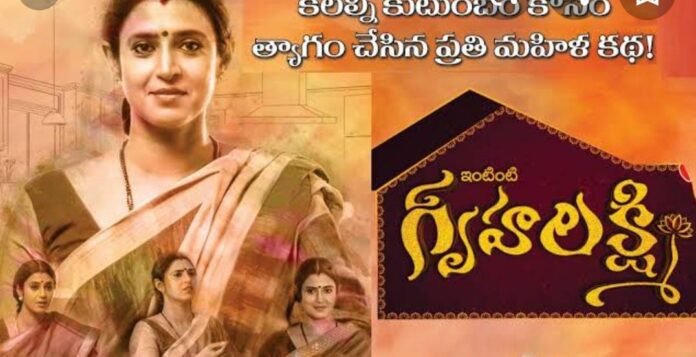 Intinti Gruhalaxmi Upcoming Story, Spoilers, Latest Gossip, Future Story, Latest News and Upcoming Twist, on Justhowbiz.net
Episode starts with Nandu says you crossed limits. Lasya says you're supporting Tulasi against me, I won't leave this matter until I teach her lesson, wait and see. Tulasi angrily thinks about Lasya comments. Prem says don't control your anger mom, they feel you can't do anything if you're silent so you have to express your opinion otherwise they will play with your life. Tulasi says don't know if it's wrong or right but I couldn't control myself listening her words. Prem says you did right by punishing her when she is crossing her limits but you must do it long back when Lasya entered the Dad's life than she might never enter in our life's.
Tulasi says I always feel they realise their mistakes one day and Im not person who punish others. Prem says I know mom but being good always is not right and we have to fight for our life. Tulasi says you're right but from childhood I got used to hide my pain that's why I never question anyone but today Lasya tried to point my character, I couldn't bear when she pointed my character that's why I slapped her, anyways leave about her.
Vamsi asks Rohit to check the document but he notices Rohit is lost and asks what's happened. Rohit says I thought to unite Tulasi with Nandu but it didn't happen that's why feeling bad, why innocent like Tulasi is facing these problems. Vamsi says we are humans so can't escape from these situations, you tried your best to unite them but it didn't happen and I feel Nandu is internally struggling to choose what's good for him. Rohit says don't know about it but I'm feeling bad thinking my plan is failed so leave, I will check the files later.
Police inspector calls Tulasi. Lasya tells to inspector that Tulasi is the one who tried to kill her. Everyone comes to hall. Inspector says we have to arrest Tulasi and if Lasya accusations are right than we will out attempt to murder charger on Tulasi. Nandu father asks inspector to decide who's wrong after knowing what happened, Lasya is intentionally blaming innocent like Tulasi. Inspector asks how Lasya is related to their family. Prem tells her how Lasya entered their home because of her relationship with their Dad. Lasya says I'm going to be daughter in law of this house very soon once they get their divorce that's why Tulasi is planning to hurt me. Nandu father says this house belongs to Tulasi. Prem says my mom respected Dad decision that's why allowed Lasya to stay in our place.
Inspector says now I get the complete story and Lasya you did wrong by entering between Nandu and Tulasi before their divorce and we can arrest you and Nandu if Tulasi complain to us and she asks Tulasi if she wants to complain on Lasya using Domestic violence law. Tulasi denies saying she don't want to ruin the family reputation with this case. Inspector agrees and leaves after warning Lasya to never come to them with false accusations. Tulasi says I can file case on you and put you behind bars but I gave you opportunity so live while thinking about it. Lasya goes angrily. Kids supports their Mom.
Tulasi goes to Lasya and says you're doing wrong with me everytime. Lasya says I'm trying to set my life by questioning others. Tulasi says you're the one who ruined our life and Im bearing everything for family reputation but you're not understanding that you can't even stay at this place without my acceptance, I'm allowing you to stay here respecting my husband decision. Lasya says don't feel that I'm living because of you. Tulasi says I respect you as a woman and until now I waited thinking Nandu will know your real nature but it's not happening because you're using his good nature but now I decided that very soon I will reveal your true colours Infront of Nandu.
Precap – Nandu gets heart attack because of Lasya words. Lasya denies to allow Tulasi to see Nandu at hospital.